Club Tuana Fethiye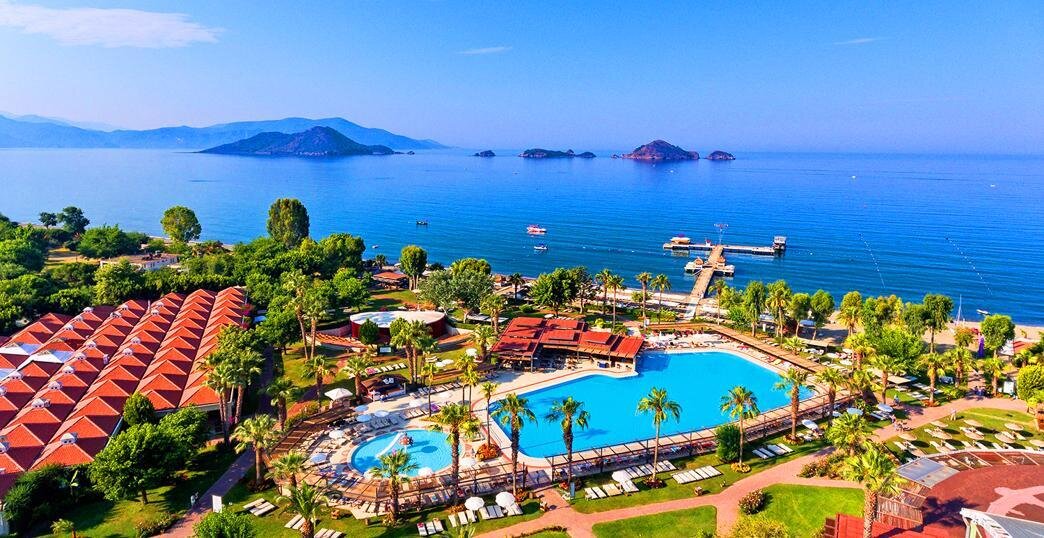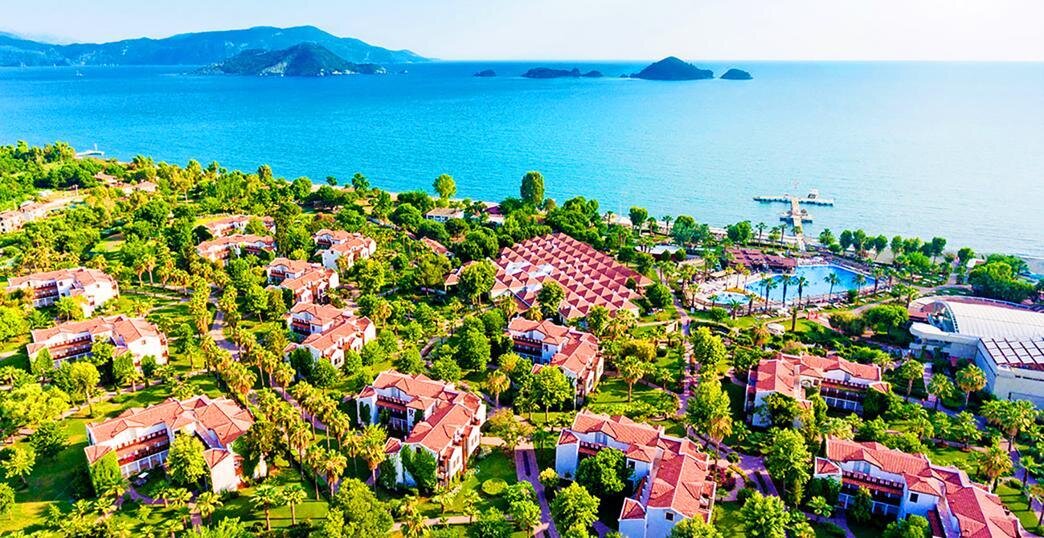 Club Tuana Fethiye
Room Details
Please choose a room to see the details.
Flights
Please choose a flight to see the details.
Club Tuana Fethiye
Club Tuana Fethiye
General Information
Club Tuana Fethiye serves with Ultra All Inclusive concept. Located on the seaside, the property is a modern and comfortable holiday village surrounded by palm trees, orange groves and sweetgum trees, built in a wide and flat garden of 120.000 m2 integrated with nature.
Club Tuana Fethiye Holiday Village consists of 24 blocks with 3 floors each. The facility includes a reception building, Veranda Restaurant and ball, meeting hall and bar units, a kids club and a fitness center.
Outdoor disco, shopping center, hairdresser, photographer, SPA center, Turkish bath, sauna, car rental, laundry / ironing service, game room, internet cafe are the other activity areas in the facility.The facility has a 980 square meter swimming pool, a children's pool and a 3-way slide pool at a separate point.
The facility also has a small zoo for children and an amphitheater with a capacity of approximately 600 people. Health Services are paid and available 24 hours a day.
Ultra All Inclusive Concept
Early Breakfast 07:00 –07:30
Breakfast 07:30 –10:30
Late Breakfast 10:30 –11:30
Ice Cream Service19:00 –21:30
Club Snack Service 12:30 –17:30
Park Snack Service 12:30 –17:30
Turkish Pancake & Ice Cream 11:00 –17:30
Lunch 12:30 –14:00
Dinner 19:00 –21:30
Olive Tree World Cuisine 19:30–22:00 (International Cuisine)
İvriz Restaurant 19:30–22:00 (Fish and Sea Food)
Ristorante Roma 19:30–22:00 (Italian Cousine)
Late Night Snack 23:00 –00:00
Late Night Cold Sandwich 01:30 –02:00
The Bar 24 Hours
Pool Bar 09:00 –24:00
Poseidon Bar 11:00 –24:00
Lobby Bar 08:00 –24:00
Zoo Bar 11:00 –17:30
Disco Bar 23:00 –02:00
Park Pool Bar 09:00 –24:00
Specialty Restaurants (Olive Tree & İvriz & Ristorante Roma) 19:30 –22:00
Honeymoon
Live flowers in the room
Scented candles and incense in the bathroom
Serving food in a theme restaurant of your choice
Heart-shaped cake on the table after dinner
Breakfast is served in the room on a desired morning
On the day of entry, a fruit basket, chocolate, dried fruits and sparkling wine are served in the room
Evening treat at the Pavillion (wine and cheese plate)
20% Discount for a massage session requested at the SPA center
Hotel Facilities & Amenities
* Marked are charged extra
Otel
Swimming Pool
WiFi
Newspapers in Lobby
Elevator
Reception
Garden
Sauna
Hammam
Babysitting or Childcare

*

Beach Towels
Sun Lounger
24-Hour Security
Concierge

*

Güneşlenme Terası
Kum Plaj
Massage

*

Özel Plaj
Spa

*
Food & Drink
Restaurant
Snack Bar
Pool Bar
Beach Bar
A La Carte Restorant

*
Spor-Eğlence
Kid Club
Waterslide
Bike Rental

*

Aerobic
Amphitheatre
Animasyon
Aquapark
Banana

*

Basketbol
Billiard Table
Boccia
Jet Ski

*

Oyun Alanı
Plaj Voleybolu
Surfing

*

Tennis Court
Volleyball
Parasailing

*
Oda
Towel
Kasa
Air Conditioning
Minibar

*

Room Service

*

Hairdryer
Kettle
Television
Slippers
Balcony
Telefon
Other
Grocery/Convenience Store

*

Hairdresser

*

Laundry

*

Doctor

*

Foreign Exchange Services
Fotoğrafçı

*

Kuru Temizleme

*

Otopark
Private Pier
Uzaklık/Konum
Airport 42 km
City Center 17 km