Cornelia Diamond Golf Resort & Spa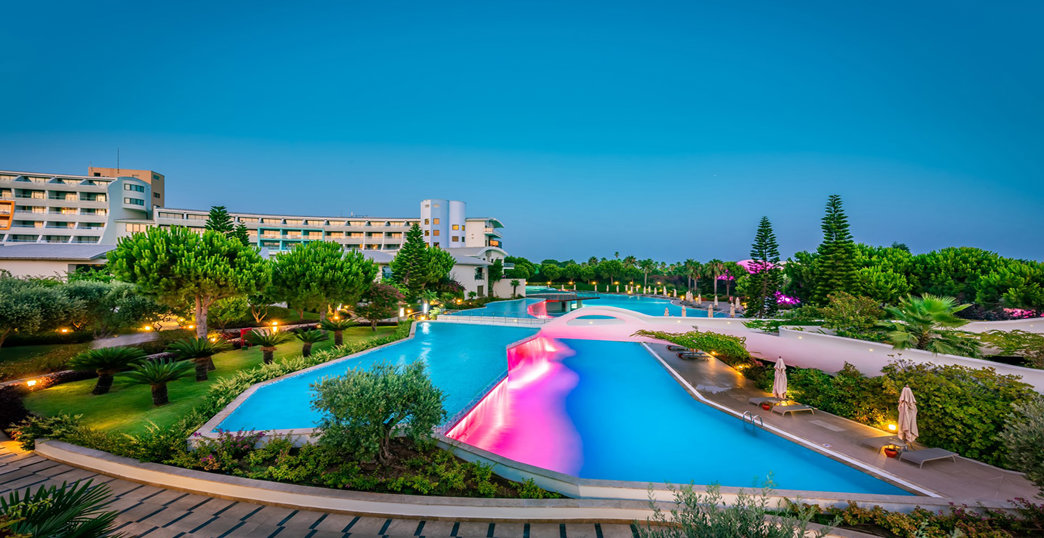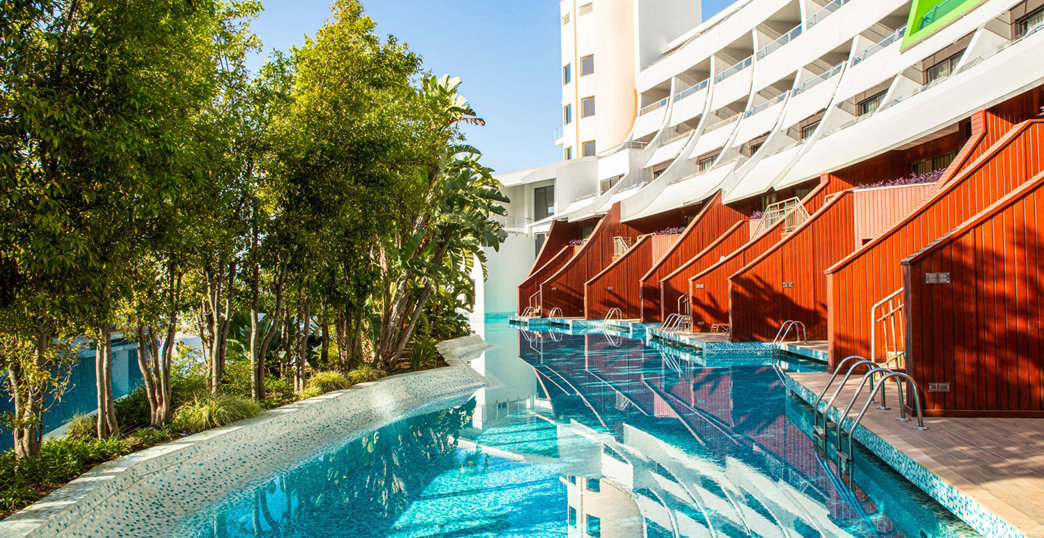 Cornelia Diamond Golf Resort & Spa
Room Details
Please choose a room to see the details.
Flights
Please choose a flight to see the details.
Cornelia Diamond Golf Resort & Spa
Cornelia Diamond Golf Resort & Spa
General Information
Cornelia Diamond Golf Resort & Spa, the assertive and trendy hotel of the region, in Antalya Belek, the apple of the eye of Turkey. With its pools that surround you, the magnificent Crassula SPA that will renew your soul as well as your body, Cornie Children's World, 6 A La Carte Restaurants, 27-hole Cornelia Golf Club Nick Faldo Championship Golf Course, and unique sports and entertainment opportunities, this hotel is designed for you to enjoy every moment. Welcome to the magical world.
The 250-meter-long, 55-meter-wide private beach of the hotel allows you to enjoy the clear waters of the Mediterranean. The pier area of ​​1,150 square meters extending to the sea on the beach maximizes the pleasure of the sea. You will feel very special by feeling the joy of swimming in the magical waters of the blue world.
The most precious little ones will experience the holiday of their dreams at the Cornie Kids World with its expert team. The children's world, which offers many opportunities such as indoor and outdoor playgrounds, amphitheater, children's restaurant, baby room, serves in a special area.
Accompanied by experienced animators, children can participate in creative and entertaining activities suitable for their age throughout the day. Located in front of our hotel, the Cornie Children's World; With its close distance to the sea, pools and general areas, it provides all the necessary convenience for parents.
Within walking distance of Cornelia Diamond Golf Resort & Spa, one of the most prestigious golf courses in the world awaits you with its natural sand areas in a pine forest; Cornelia Golf Club Nick Faldo Championship Golf Course. Designed on an area of ​​1,400,000 square meters, this special field consists of 27 holes.
The holes are placed according to the location of the wide sand slopes inside the field. It is possible to play in 3 different combinations on our 27-hole golf course, designed by the world-famous Professional Golf player and course architect Nick Faldo.
Golf Academy under the leadership of David Leadbetter, which serves as an excellent school for golf beginners, Club House of 4,800 square meters, Club House Restaurant and Bar, Pro Shop where you can find world-renowned brands, and Cornelia Golf Club Nick Faldo Golf Course are among the facilities offered. It is possible to pass from the hotel to the Golf Club.
Crassula Spa consists of three separate sections called Spa Relax, Spa Luxury and Spa Private on an area of ​​5,000 square meters. Crassula SPA has been specially designed so that you can renew your body and soul, use the possibilities offered by nature to the fullest, and reach a healthier and higher quality of life, beyond the usual spa therapies.
Saunas at different temperatures, special showers and a traditional Turkish Bath, Crassula Spa are among our services that our guests can benefit from... In addition, there are relaxation corners with different atmospheres in different parts of our Crassula SPA center.
At Crassula SPA, our guests are offered luxurious treatments such as Far Eastern massages embellished with a "Zen philosophy", Sultan treatments, therapies made with 24 carat real gold, holistic therapies, beauty treatments with natural essences, and Far Eastern massages in the open air in Bali houses built on water.
Diamond All Inclusive Concept Watches
A'la Carte Restaurants are assertive with their unique food presentations, as well as impressive atmospheres where you can have a different experience every day. The hotel also offers a wide selection of local and foreign drinks in our 10 different bars, one of which is open 24 hours a day, serving in different flavors.
The hotel has 1 main restaurant, 1 snack restaurant and 6 A La Carte Restaurants offering outstanding examples of world cuisine. You can discover a wide range of brand new flavors from sushi to oriental flavors of Ottoman cuisine, from seafood to game meats, from local Anatolian dishes to Italian classics.
Service Hours
07.00-10.00 Breakfast (Diamond Main Restaurant)
10.00-11.00 Late Breakfast (Diamond Main Restaurant)
10.00-18.00 Patisserie (Biscotti Cafe)
12.00-16.00 Snacks (Sapore Restaurant)
12.30-14.30 Lunch (Diamond Main Restaurant)
16.30-18.00 Tea Time (with dry cake and cake - Biscotti Cafe)
18.30-21.00 Dinner (Diamond Main Restaurant)
19.00-22.30 A la Carte Restaurants
23.30-00.30 Night Buffet (Diamond Main Restaurant)
Bars
09.00-19.45 Crassula Bar
10.00-18.00 Biscotti Cafe
10.00-23.45 Lobby Bar
16.00-23.45 La Boheme
24 Hour Moulen Bar
A La Carte Restaurants
Sapore A La Carte Restaurant (Mediterranean Cuisine) (Paid)
Forest Pub A La Carte Restaurant (Latin and North American Cuisine) (Paid)
Tai Pen A La Carte Restaurant (Far Eastern Cuisine) (Paid)
Honeymoon
Wine on arrival in the room
'One Thousand and One Nights' special tale tray (fruit, snacks)
Breakfast service to the room on the first morning
Free dinner at a special place (A'la carte restaurant or a special place deemed appropriate by the facility) one evening (in line with the facility concept)
Hotel Facilities & Amenities
* Marked are charged extra
Otel
Swimming Pool
WiFi
Indoor Pool
Elevator
Reception
Garden
Sauna
Kiddy Pool
Hammam
Beach Umbrellas
Beach Towels
Sun Lounger
Hammam

*

Massage

*

Özel Plaj
Spa

*

Ironing Service

*

Baggage Store
Pavilion

*

Housekeeping

*

Reception Safe

*
Food & Drink
Snack Bar
Pool Bar
A La Carte Restorant

*

Pub
Restaurant

*
Spor-Eğlence
Game room
Fitness Center
Waterslide
Golf Range
Water Sport

*

Aquapark
Basketbol
Billiard Table
Bowling

*

Dart
Futbol Sahası
Jet Ski

*

Masa Tenisi
Plaj Voleybolu
Playstation
Windsurfing
Water Polo
Yoga
Live Music
Oda
Bathrobe
Towel
Kasa

*

Air Conditioning
Minibar

*

Room Service

*

Hairdryer
Television
Slippers
Telefon
Bathroom
Tea/Coffee Set
Electronic Key System
Other
Hairdresser

*

Boutique

*

Laundry

*

Doctor

*

Fotoğrafçı

*

Güzellik Hizmetleri

*

Kuru Temizleme

*

Otopark
Private Pier
Uzaklık/Konum
Airport 35 km
City Center 2 km
Duden Waterfall 43 km
Kursunlu Waterfall 36.4 km