Crystal Waterworld Resort & Spa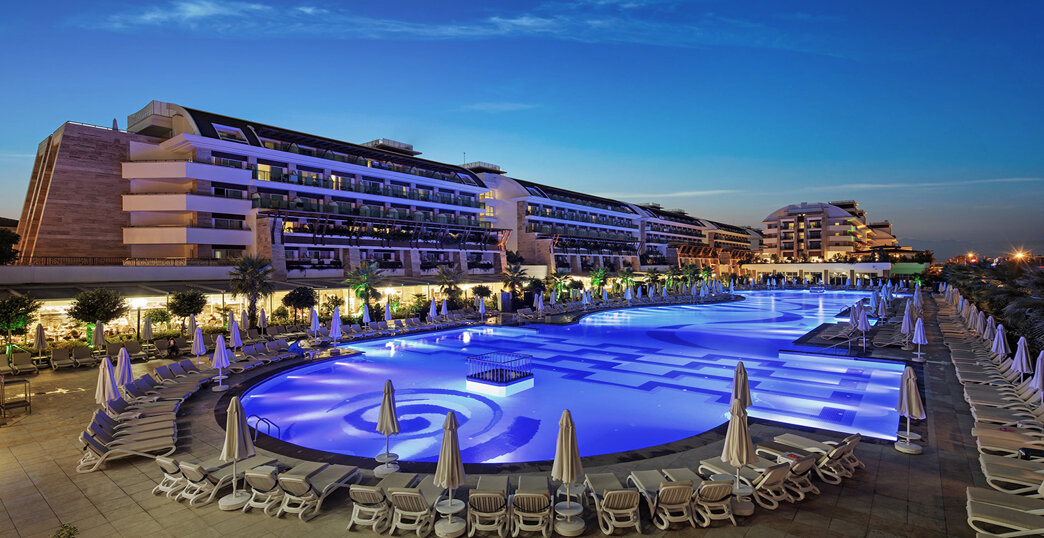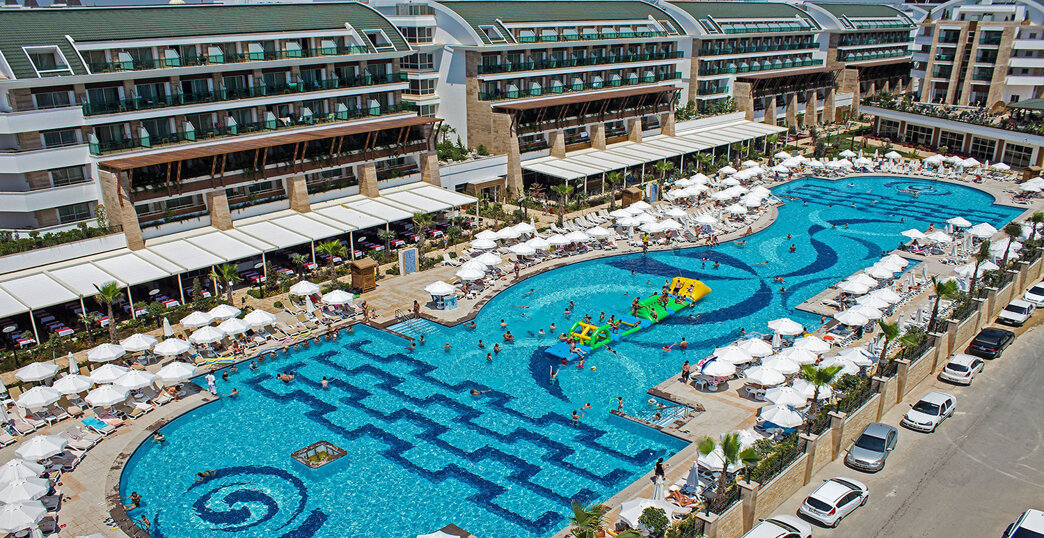 Crystal Waterworld Resort & Spa
Room Details
Please choose a room to see the details.
Flights
Please choose a flight to see the details.
Crystal Waterworld Resort & Spa
Crystal Waterworld Resort & Spa
General Information
Crystal Waterworld Resort & SPA, located in Bogazkent, the holiday paradise of Antalya, offers its guests a pleasant holiday with its private beach and comfortable rooms.
On the beach belonging to the facility, sunbeds, umbrellas and towels are provided free of charge to the guests. In the modern decorated, spacious and bright rooms of the facility; Balcony, minibar, safe, wireless internet, air conditioning, television and satellite broadcast
Laundry, dry cleaning, room service, 24-hour reception and free private parking are among the other services offered by the facility.
The SPA center, sauna, Turkish bath, steam room and massage applications in the facility make the holiday more enjoyable for the guests.
There is also a fitness center and tennis court for those who love to do sports and want to keep fit.
As an alternative to the private beach area, the property includes indoor and outdoor swimming pools and a sun terrace. In addition to these facilities, there is also a children's pool.
Eating and Drinking
Breakfast, lunch and dinner buffet meals are free. Local and foreign, alcoholic and non-alcoholic beverages within the brands determined by the facility are free of charge between 10.00-01.00.
The minibar is filled with soft drinks every day.
There is a diet corner in the facility and the employees are closely interested in all the needs of the guests during the buffet hours. The Guest Relations Department and the kitchen team contact the guests who marked the allergen warning on the Guest Information Cards filled at check-in and assist them in accordance with Crystal Hotels Management standards.
The Caretta Restaurant by the sea is used as a la carte in the evenings.
Ultra All Inclusive Concept Hours
07.00-11.00 Breakfast
08.00-00.00 Lobby Bar
10.00-00.00 Arena Bar
10.00-00.00 Pool Bar
10.00-23.00 Tea Service (with Dry Cake and Cake)
11.00-22.00 Patisserie
11.00-17.00 Pancakes
11.00-17.00 Snacks
12.30-14.30 Lunch
14.00-18.00 Ice Cream Time
18.00-00.00 Terrace Bar
18.30-21.30 Dinner
23.00-02.00 H2O Disco Bar
Honeymoon Concept
Upgrade to standard rooms according to availability (Except Honeymoon Suite room type)
Desired 1 day breakfast in the room (with freshly squeezed juice - excluding Honeymoon Suite room type)
1 free a la carte restaurant (1 honeymoon dinner, subject to availability)
Special design sweet box
Body lotion
Tooth kit, Shaving kit, Bathrobe
Guests who want to take advantage of the Honeymoon Concept must present a valid document up to 6 months before the check-in date.
Hotel Facilities & Amenities
* Marked are charged extra
Otel
Swimming Pool
WiFi
Indoor Pool
Elevator
Reception
Sauna
Kiddy Pool
Hammam
Beach Umbrellas
Sun Lounger
24-Hour Security
Shoeshine

*

Kum Plaj
Massage

*

Özel Plaj
Spa

*

Vale

*

Ironing Service

*

Housekeeping

*

Reception Safe

*
Food & Drink
Pool Bar
Beach Bar
A La Carte Restorant

*

Snack Bar

*

Restaurant

*
Spor-Eğlence
Fitness Center
Animasyon
Aquapark
Jet Ski

*

DJ
Volleyball
Oda
Çalışma Masası
Towel
Air Conditioning
Minibar

*

Room Service

*

Hairdryer
Non-smoking
Television
Balcony
Phone

*

Electronic Key System
Other
Grocery/Convenience Store

*

Car Park

*

Hairdresser

*

Laundry

*

Doctor

*

Foreign Exchange Services
Kuru Temizleme

*

Otopark
Uzaklık/Konum
Airport 45 km
City Center 52 km
Duden Waterfall 51 km
Kursunlu Waterfall 45 km