As You Wish
Beach, Sand and Sun
The Most Enjoyable Beach Holiday Options
Now, put everything aside, and think of the beach holiday you are dreaming of. Pick any one of the tones of blue, and feel the warmth of endlessly stretching sands, and find a holiday of your dreams. Whether on an exotic island, or in the gorgeous beaches of a metropolitan city, the beach holiday just as you are looking for is here!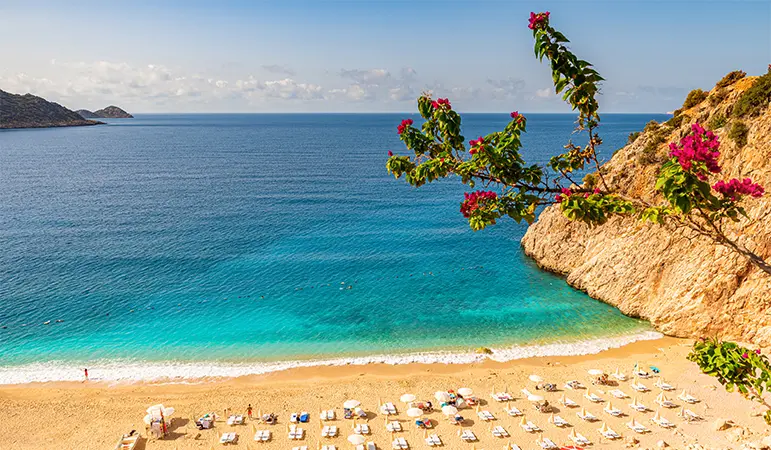 Kaputas Beach, Kaş, Antalya
Beach, Sun and Sand
A holiday doesn't get better than sinking your toes into the soft sand as you listen to waves crashing against the shoreline while breathing in the salty fresh air. Beach holidays have been a favourite amongst intrepid tourists, couples, friends and families for generations and offer up a host of fun activities to suit every type of traveller. Beach holidays offer some of the most amazing vacation experiences and can be designed to be the type of holiday that is best suited to you, be it romantic, adventurous or relaxing. Book a beach holiday package to any of the world's most famous beach paradises and get ready to enjoy that idyllic beach vacation you've been dreaming about!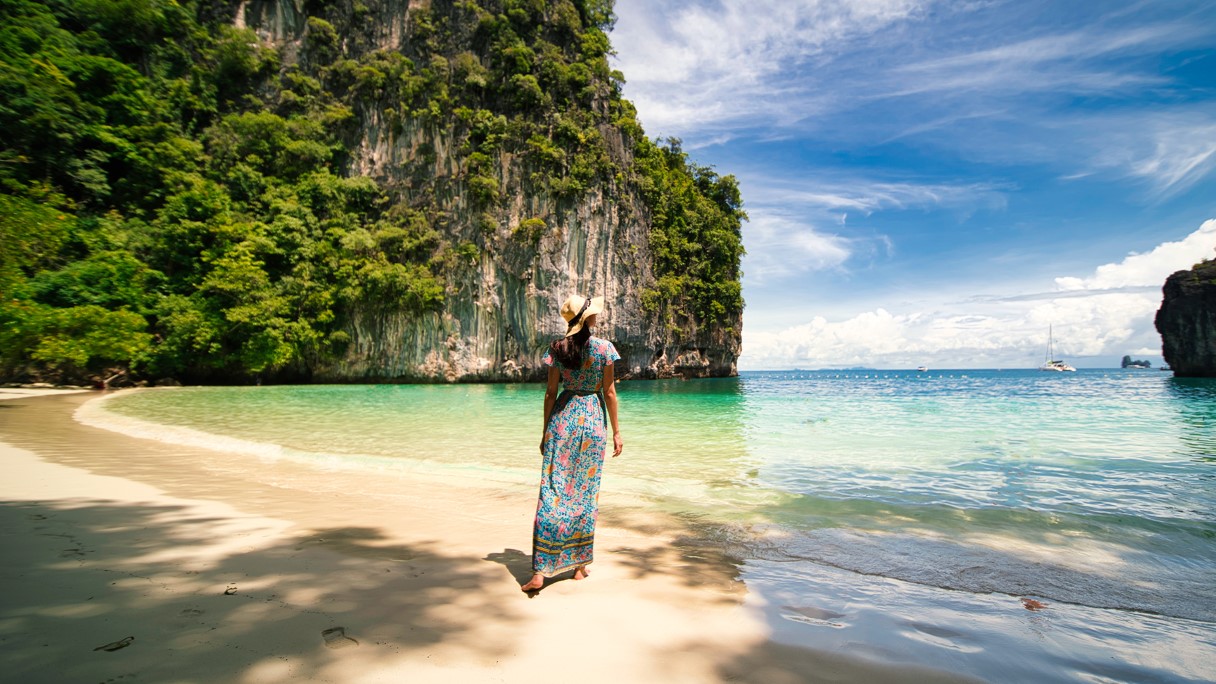 What is included in vacation packages?
Planning a vacation can be an extremely stressful task. From making sure that flights are booked, accommodation is taken care of and that you will have someone to fetch you from the airport, planning a holiday can quickly turn from fun and easy to an anxiety-provoking disaster! By booking a holiday package, you are taking this stress out of your vacation as within one package, all of your flights and accommodation for your trip is completely taken care of! Along with this, you have the option of adding features such as car rentals and transfers to ensure that you reach your final destination quickly and safely.
When you purchase a vacation package through one company, everything is taken care of for you! Any issues that may occur are quickly and easily handled, ensuring that your trip will be memorable for all the right reasons. These beach vacation packages are booked out quickly and so to ensure that you are not disappointed, consider making an early reservation. For the perfect trip to a beachside oasis, purchase a vacation package today!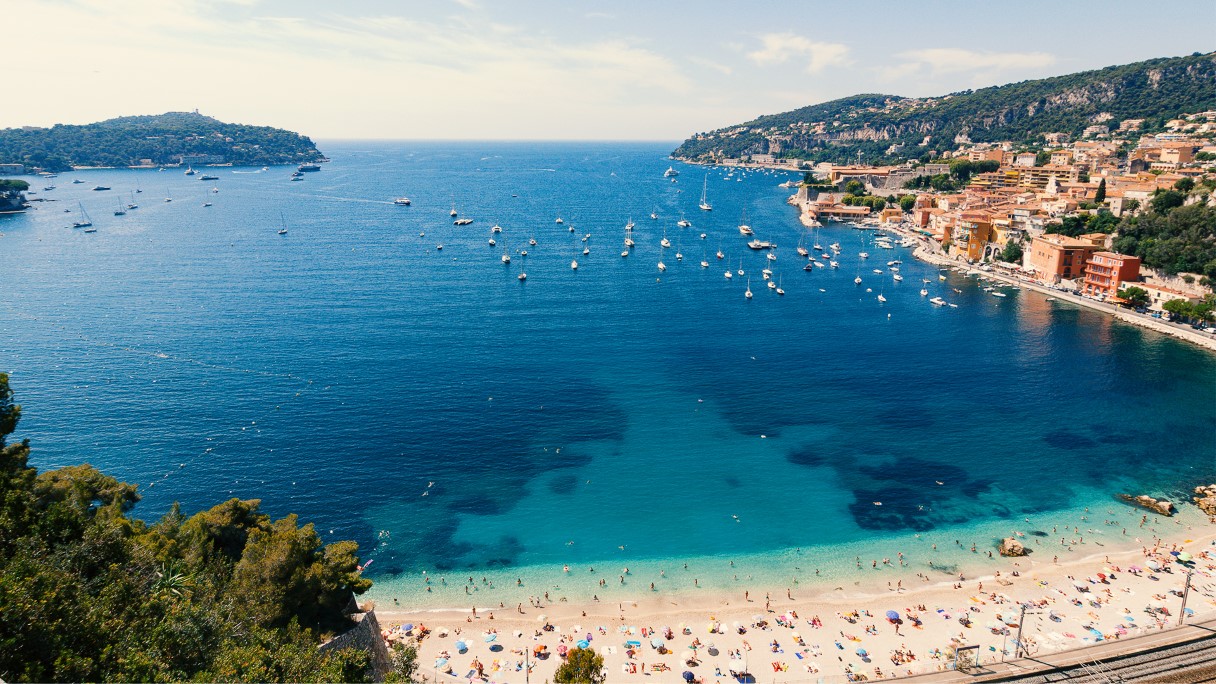 Where are the best beaches in the world?
Whether you plan on relaxing on the beach whilst enjoying your favourite book or are considering partaking in any of the various water sports offered, enjoying a beach holiday at any one of the best beaches in the world would be an unforgettable adventure! The following destinations are known to be home to some amazing stretches of coast and offer up some of the most serene and beautiful beaches in the world!
Maldives
Transparent clear water, powdered white sand and decadence beyond compare are just a few things that may spring to your mind when envisioning a trip to the Maldives. This island nation is located southwest of Sri Lanka and India, in the Indian Ocean and is known as the smallest country in Asia. Along with being home to some of the most beautiful stretches of beach, the Maldives is home to over 1000 species of fish and other aquatic wildlife that live beneath the surface of the water! The coral reefs offer colourful and majestic sites, ensuring that any scuba or snorkelling experience is one to remember. Along with the opportunity to adventure beneath the surface of the water, a Maldives holiday package offers an abundance of exciting experiences and activities from water sports to boat trips! Book a Maldives vacation package to enjoy the wonders of this amazing island paradise.
Why should you choose to vacation at one of the world's most popular holiday destinations, the Maldives?
The Maldives is known for its world-renowned beaches and has been associated with being one of the world's most popular destinations for those looking to enjoy a beachside vacation. Whilst the country is more commonly associated with its unique beauty and luxurious resorts, it is not solely dedicated to the wealthy tourist and this holiday destination offers various accommodation options catering to a diverse range of preferences. For couples looking to enjoy a Maldives honeymoon seaside vacation to families looking to enjoy some fun in the sun, this holiday destination offers an experience like no other for all types of holidaymakers. For a Maldives beach adventure like no other, book a vacation package for the perfect holiday experience.
Bora Bora
This tropical paradise is a small South Pacific island that is northwest of Tahiti, located in French Polynesia. This oasis is surrounded by a spectacular lagoon that is protected by an expansive coral reef, making for some of the best snorkelling and scuba diving experiences in the world. When visiting Bora Bora, you are guaranteed to find some of the most majestic views of both the ocean and the land. Whether you plan on spending your beach holiday relaxing on the golden sandy beaches or are hoping to visit the underwater lagoon that is filled with a host of marine life, experiencing Bora Bora will prove to be an experience like no other.
Fiji
This magnificent country is made up of more than 300 islands that are littered over a small area in the South Pacific. Of these 300 islands that make up this small country, over a third of them are unexplored natural wonders. Fiji has a host of different water sports and activities to partake in, most of which make this a water lover's paradise, from kite-surfing to paragliding. If you are more interested in exploring what's underneath the ocean, you'll be able to explore the magnificent coral gardens, manta rays and turtles when you dive the Great Astrolabe Reef, which is located off the small southern island of Kadavu. Those who are keen surfers should head to the Mamanuca islands for majestic and legendary surf spots. The permanent six-metre wave off the coast of Tavarua has been known to offer some of the most idyllic surfing, as described by some of the best surfers in the world.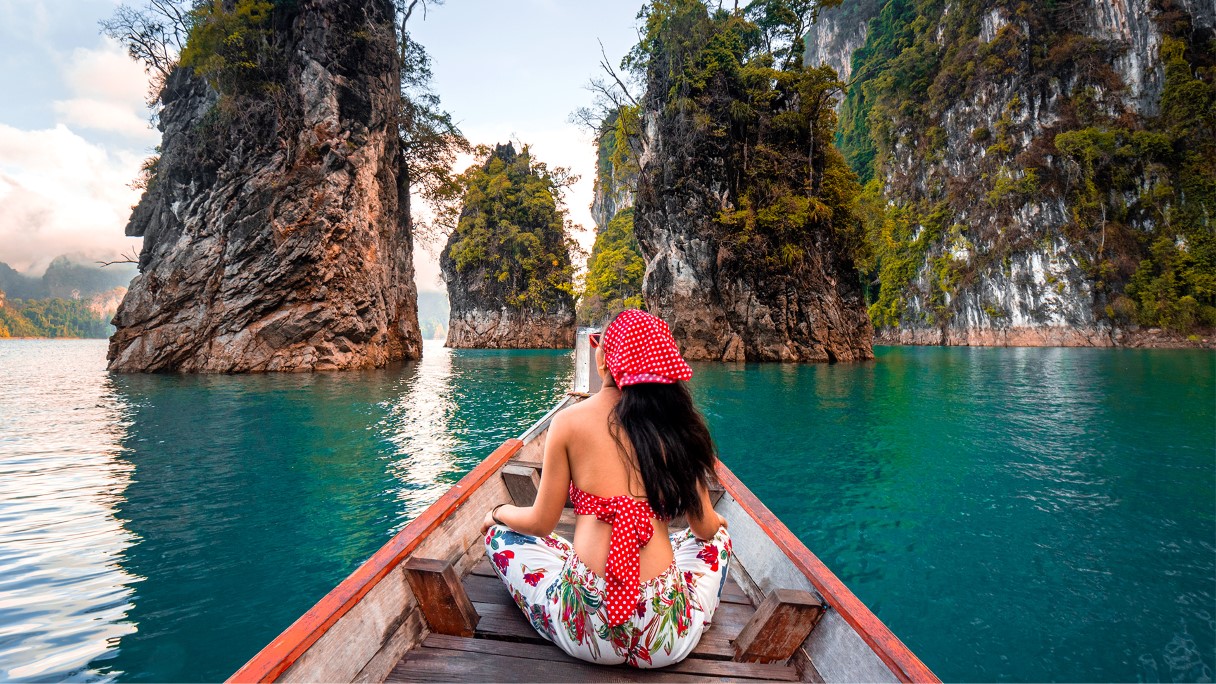 Tahiti
Made up of 118 islands, this idyllic country is located in the South Pacific ocean and is considered to be the largest island in French Polynesia. With black sandy beaches, turquoise lagoons, majestic waterfalls and two extinct volcanoes, Tahiti is a popular beach holiday destination for all kinds of travellers. With sandy stretches of coast that host some of the most primal and majestic beaches, Tahiti is a sea lover's paradise. While the shores and beaches offer stunning sights, the mountainous interior of Tahiti is embellished with large valleys, clear streams, and majestic waterfalls. Most of the island's population resides near the shore, leaving the interior of the island feeling remote, unexplored and ancient, despite being in such close proximity to the bustling capital of Papeete.
Bali
Bali has recently become one of the most famous tourist hubs for those wanting many different types of holidays. This island has been known to attract travellers who are seeking an adventure, looking for a bit of relaxation or even those who are in search of a bit of a unique cultural experience. What is probably the most enticing feature of this island, however, are the beautiful and majestic Bali beaches that litter the coastline of this Indonesian haven. Located in Southeast Asia, this paradise makes up part of the Lesser Sunda Islands. Bali is an Indonesian oasis that is well-known for its dormant volcanic mountains, iconic rice paddy farms, stunning Bali hotels and vibrant coral reefs. For one of the most perfect Bali holidays, book a vacation package to this stunning beachside location!
Philippines
The dark blue water, pristine beaches lined with coconut trees, and clean white sand make the Philippines one of the best beach holiday destinations for ocean lovers. This beautiful island nation is located in Southeast Asia, situated in the western Pacific Ocean, and is made up of about 7,640 islands. The intricate underwater rivers and cave formations that run along many of the beaches in the Philippines can add an element of exotic adventure to your vacation. Tourists are free to explore and take in the magnificent towering monoliths that extend out from the blue and green waters or walk the narrow paths through mangrove forests to access hidden beachside coves. Visitors to this oceanside paradise can watch as the sunset turns the sands of Buena Suerte Beach pink while marvelling as surfers from around the world tackle the waves of the pacific ocean. Visiting the Philippines will prove to be the beach holiday of a lifetime.
Türkiye
One may not immediately associate a Turkish vacation as necessarily being the best-suited country to visit when one thinks of going on a beach holiday. Türkiye is however home to some of the most spectacular and world-renowned beaches and beach hotels or all-inclusive hotels with sandy stretches of coast that are a sight to behold! Located along the Aegean coast, Türkiye is home to some of the most beautiful sights, and the rich and interesting cultural history is an added bonus when visiting this paradise. The hidden gem that is the Turkish coast is truly a natural wonder that would suit anyone's idea of a beachside paradise. For one of the best beach holidays in Türkiye, book a beach holiday package to secure a trip to a Turkish oasis!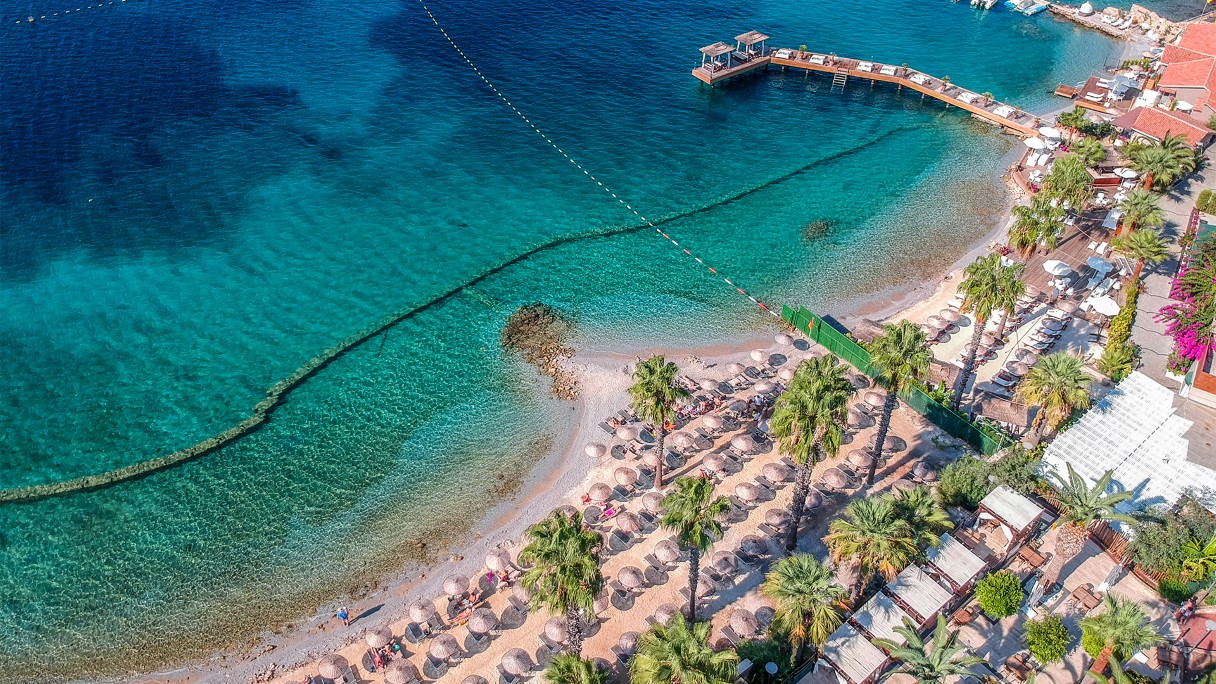 The best beach holiday destinations for honeymooners
While visiting and staying at any one of the beach paradises mentioned above would be a romantic trip for any honeymooner or couple, privacy is truly key in enjoying a romantic getaway. It is for this reason that we suggest visiting Türkiye for that private romantic vacation! Turkish beaches are home to some of the best beach hotels and best beach resorts in the world, each offering up a unique interpretation of an Aegean paradise. One of the best features of some of the best beaches in Türkiye is that they are a semi-hidden gem, having only recently become an extremely popular attraction! While some beaches have swerved to serve the more commercialised population, Türkiye still has quite a few relatively remote and wonderful escapes that are suited to couples and honeymooners who want to privately experience the natural wonders of the Aegean coast! While the romantic charm of Türkiye would be sure to make you fall in love all over again, the following cities are also known to be some of the best beach holiday destinations for honeymooners.
Capri, Italy
Capri is one of the most beautiful and romantic destinations that would be the perfect honeymoon for any couple. From the romantic Tuscan villas to the stunning Gardens of Augustus, Capri is home to some of the most spectacular views and experiences that will keep both you and your spouse enthralled!
Santorini, Greece
With a unique mixture of historical wonder, natural beauty, and modern architecture, Santorini is home to some of the most romantic views and experiences in the world. Whether it's enjoying a glass of champagne at one of the many restaurants that overlook the bay, walking hand in hand over the black sandy beaches or taking a photograph in front of the famous bougainvillaeas, Santorini offers many majestic spots for couples to enjoy both the scenery and each other's company.
Phuket, Thailand
Phuket is the perfect destination to go to if you're looking for a relaxing beachside honeymoon. With tons of romantic beaches that are perfect for a sunset stroll and a variety of luxurious hotels and spas, Phuket would offer the perfect escape for couples wanting to enjoy a beachside honeymoon vacation.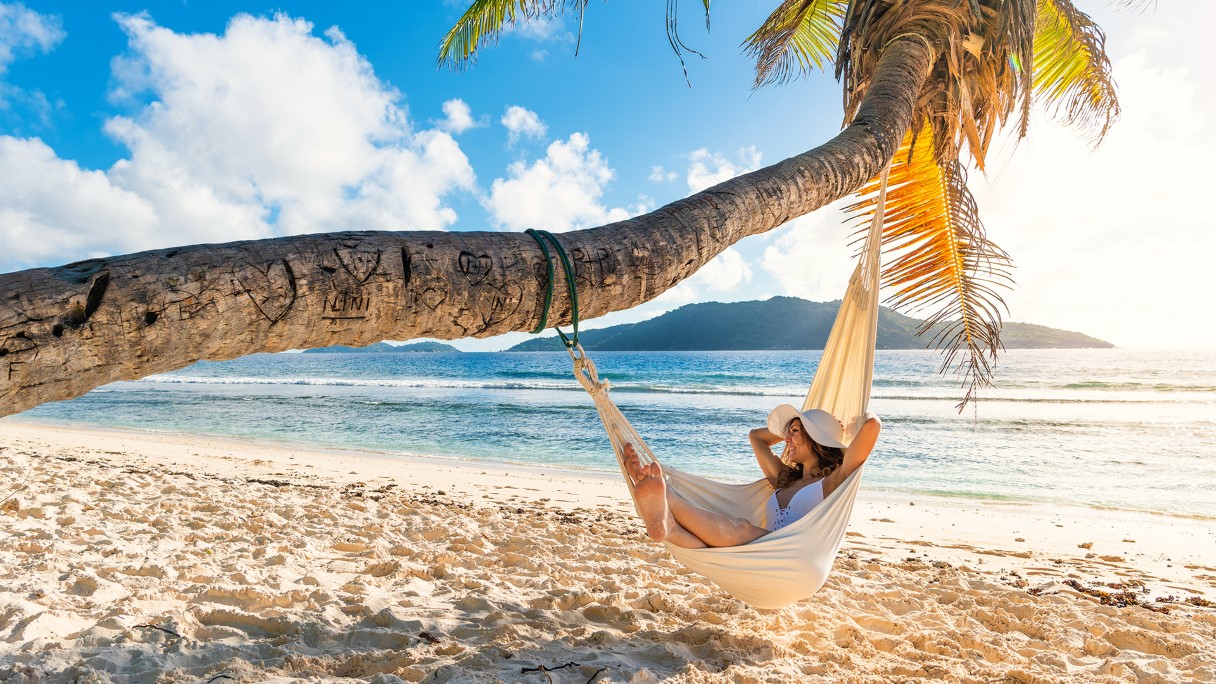 St. Lucia, Caribbean
Breathing in the tropical Caribbean sea air would no doubt be the perfect way to begin your dream honeymoon. St Lucia offers some of the most spectacular white sandy beaches and best hotels and spas for couples looking to escape to the Caribbean. Honeymooning in St Lucia entails romantic strolls along the beach at sunset, beautiful beach villas and privacy to enjoy the company of your new spouse!
The best things to do on a beach holiday
Beach holidays offer it all! For those who want to do nothing but relax and soak up some sun, tanning and reading a good book is a more than acceptable holiday activity! For the avid adventure and thrill-seekers, many beach hotels and resorts, just like the Seychelles hotels, offer adventure packages that include a host of fun activities; from kite-surfing to parasailing! Taking a beach holiday offers a versatile getaway for all types of travellers. Here are just a few of the best activities to partake in while on a beach holiday:
Snorkelling and scuba diving: Many of the top beach holiday destinations are surrounded by some of the most beautiful species of wildlife living on expansive and colourful coral reefs. Whether you are keen to explore the hidden depths of the ocean while scuba diving or are happy to experience the reefs whilst snorkelling, experiencing the majestic reefs in any of the above destinations would be a sight to behold. Snorkelling and scuba diving activities can be arranged to be included in your vacation package, ensuring you receive both the best price and experience!


Water sports: What would a beach getaway be without a little thrill and excitement? For those adventure seekers and adrenaline junkies, many of the beach holiday packages include an assortment of fun and thrilling water sports adventures. From jet skis and windsurfing to paragliding, the adventure never has to end. If you are looking for a specific activity, make sure to find a package that includes it to get the best rates and experience!


Beachside relaxation: When visiting an oceanside paradise, relaxation should definitely be classified as an activity. Most of the above beach havens have hotels and resorts that open up to an idyllic beach scene, complete with loungers, drink services and you may even get to enjoy a relaxing massage whilst enjoying the views of the ocean. Unwind, destress and enjoy looking at the beautiful beach views while soaking up the sun at any of the top beaches in the world! For an unforgettable experience, book a vacation package to any of the best beaches in the world!