As You Wish
Gastronomy Routes
The Most Enjoyable Gastronomy Holiday Options
Vacations are about discovering new cultures, meeting new people, exploring nature, relaxing on the beaches, adventures in mountain peaks... Furthermore, tasting new and fresh food of different cuisines. For some, it's the primary purpose of going on a holiday. A foodie's vacation is a journey to satisfy their need to taste as many delicacies as they can. It's a different type of adventure for them. They explore the local cultures through their cuisine, tasting new dishes and beverages. A trip becomes a feast for their belly, as well as their eyes and soul. Suppose you're a gastronaut looking to treat yourself with the world's most authentic meals. In that case, you can opt-in for a gastronomy route with vacation packages.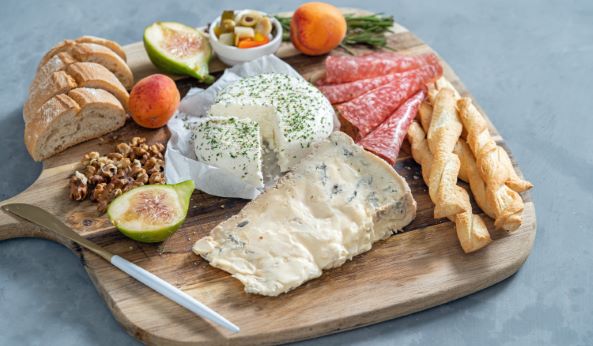 Culinary Routes Guide for the Hungry Tourist
Everyone has different vacation expectations. Maybe you're an architecture nerd who can't wait to marvel at some magnificent structures, or perhaps you just want to relax by the beach with a cool drink. However, for the foodies among us, authentic and irresistible dishes are a must!
Whether you are searching for hidden treasures or a fine-dining experience at a luxury restaurant, every country on the map has a plethora of gastronomic delights to be discovered.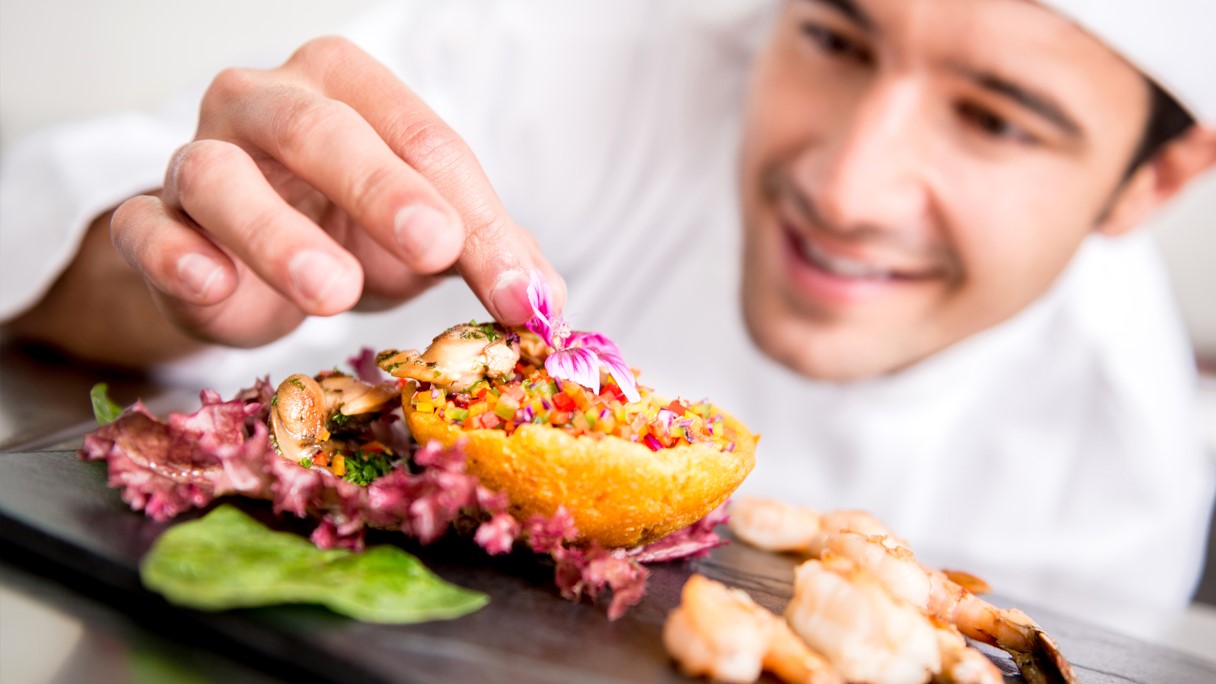 A glass of wine indeed tastes better when you're smelling the lavender farms in a French village, or that slice of uncooked salmon melts better in your mouth while admiring the cherry trees in a Japanese forest. This is what food travel is all about. Some foodie travellers are even incorporating cooking classes into their holiday packages. They let you learn about the local ingredients and smell the fresh herbs and vegetables straight from the gardens.
However, it doesn't matter if you're embarking on a culinary adventure or simply seeking the must-have treats of your destination. We have gathered the world's tastiest spots that you shouldn't miss either way. So prepare to have your tummy growl, and let's get started.
Top 5 Culinary Routes
Destination: Paris, France
The region with best restaurants: Bastille
Must-have dishes: Steak and fries, macarons, escargot
Must-have drinks: Chocolat Chaud (hot chocolate), French wine, champagne
Must-know things before visiting: Leave the ketchup alone (unless you have French fries)
Destination: Beirut, Lebanon
The region with best restaurants: Souk el Akel (a moving street food market exhibiting Lebanon's culinary scene)
Must-have dishes: Manakish (an Arabic pizza), falafel, knafeh (dessert with cheese and pistachio)
Must-have drinks: Arak (a black liquorice-flavoured alcoholic aperitif) and ayran (a yoghurt-based drink prepared with salt and garlic)
Must-know things before visiting: Lebanese are nocturnal, so dine late and avoid clubs before 10 pm.
Destination: San Sebastián, Spain
The region with best restaurants: Markets of San Martín and La Bretxa
Must-have dishes: Anchovies and pintxo (Basque-style tapas)
Must-have drinks: Gin and tonic, cider, txakoli (semi-sparkling white wine)
Must-know things before visiting: Dinner times are between 8 pm and 11 pm, typically later than other European destinations.
Destination: Gaziantep, Türkiye
The region with best restaurants: Şahinbey
Must-have dishes: Doner kebabs or shish kebabs, baklava (layered pastry dessert with nuts and syrup), lahmacun (flatbread with meat topping)
Must-have drinks: Menengiç coffee
Must-know things before visiting: Try not to leave anything on your plate. It may be offensive to the host.
Destination: Tokyo, Japan
The region with best restaurants: Ginza
Must-have dishes: Sushi, ramen (noodle soup), tempura (deep-fried seafood, meat and vegetables)
Must-have drinks: Whiskey and sake (rice-based alcoholic beverage)
Must-know things before visiting: Eat the sushi in one bite! Don't return half-eaten sushi to your plate.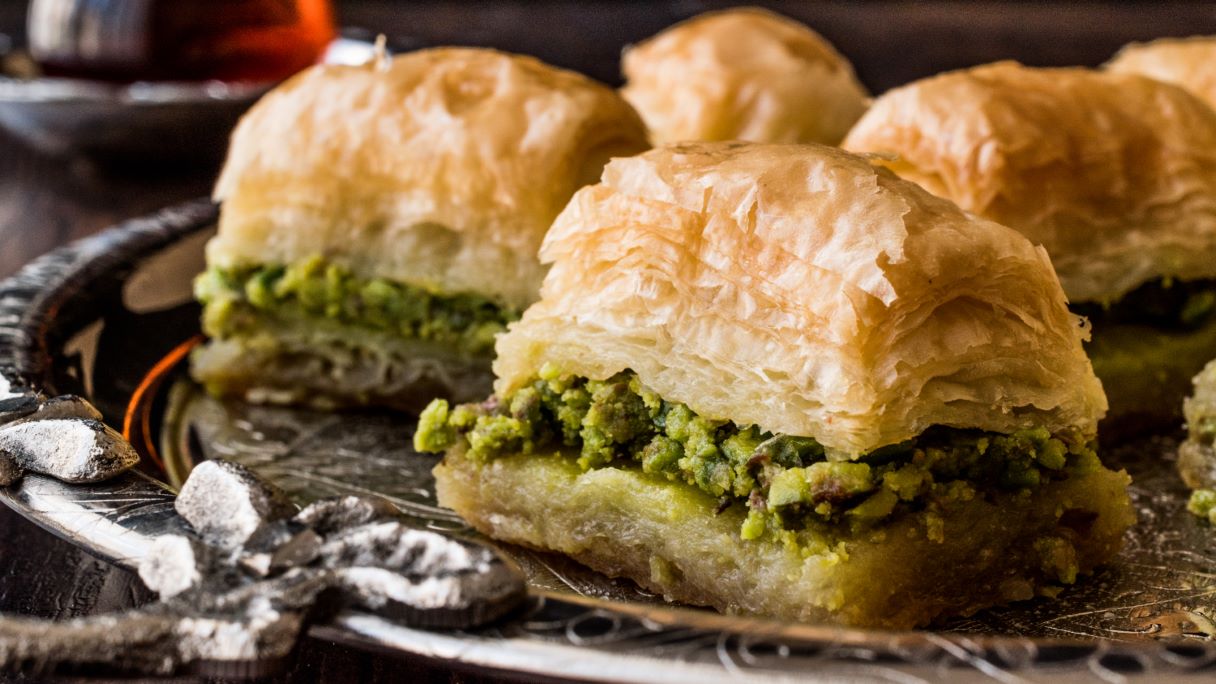 What Are the Best Gastronomy Routes in Türkiye?
Prepare to gain a few pounds if you are planning a food vacation to Türkiye. Türkiye's cuisine reflects the influences of numerous ethnic groups who have settled on Anatolia over the centuries, including Greeks, Arabs, Armenians, Circassians and, of course, Turks. So in a way, you'll experience the best of all worlds.
You can't discuss Turkish cuisine without mentioning Gaziantep. Located in southeast Türkiye, Gaziantep hotels are famous for their hospitality. Their cuisine is heavily influenced by neighbouring country Syria. Although the region is well-known for its meat dishes, such as the garlic kebab, the show's true star is baklava.
If you prefer seafood, the Black Sea region offers an experience you won't want to miss with green highlands bathed in the fresh air and unique culinary delights. Ingredients such as hamsi (a type of anchovy) and corn are prominent in the region's cuisine, so you'll find many specialities, such as cooked rice with hamsi and pickled hamsi. However, if you find yourself bored with hamsi, don't worry. You can try kuymak, a breakfast meal made with cornflour, butter, milk cream, and melted cheese. It goes well with cornbread. Pide, a pastry made with just about anything, including eggs, minced meat, cheese, and of course, hamsi, is another delicacy.
There is no place better than the centuries-old Mediterranean city, İzmir, to experience Greek and Turkish cuisine fusion. So it's no surprise that olive oil is a staple in the local cuisine, featuring fresh seafood, a variety of delicious vegetables, and herbs. Boyoz is a breakfast pastry filled with local ingredients. Most importantly, don't leave İzmir without eating all sorts of mezze made with fresh seafood to accompany your rakı—the Turkish national drink made of twice-distilled grapes and aniseed. After a night at the meyhane—Turkish style tavern—, you'll need a good night's sleep, but don't fret, you can find many last minute hotel deals in İzmir with the best rates.
Adana is hot. Their food is hot, the weather is hot, and it is a hotspot for the foodies. So beware if you can't stand the heat! The city is has a coast on the Mediterranean sea. Still, contrary to most Mediterranean food, the locals enjoy it spicy. This is because the culture has influences from Arabic cuisine, as well as Anatolian. The most featured dish of the region is the Adana kebab, which is hot. And they also like to drink şalgam suyu, a fermented carrot juice drink, also hot. Pro tip: be sure to choose the shabby bistro over that fancy restaurant, and don't hesitate to ask the locals for advice.
Finally, we arrive in İstanbul. A major port and Türkiye's largest city, İstanbul saw rural-to-urban migration over the years. So naturally, the migrants brought their local cuisine with them. This is why most Anatolian flavours can be found in Istanbul and Ottoman delights unique to the former Ottoman capital. However, suppose you can't decide between fine dining and local cuisine or which region to visit to sample the local cuisine. In that case, Istanbul's all-inclusive hotels can be great places to start.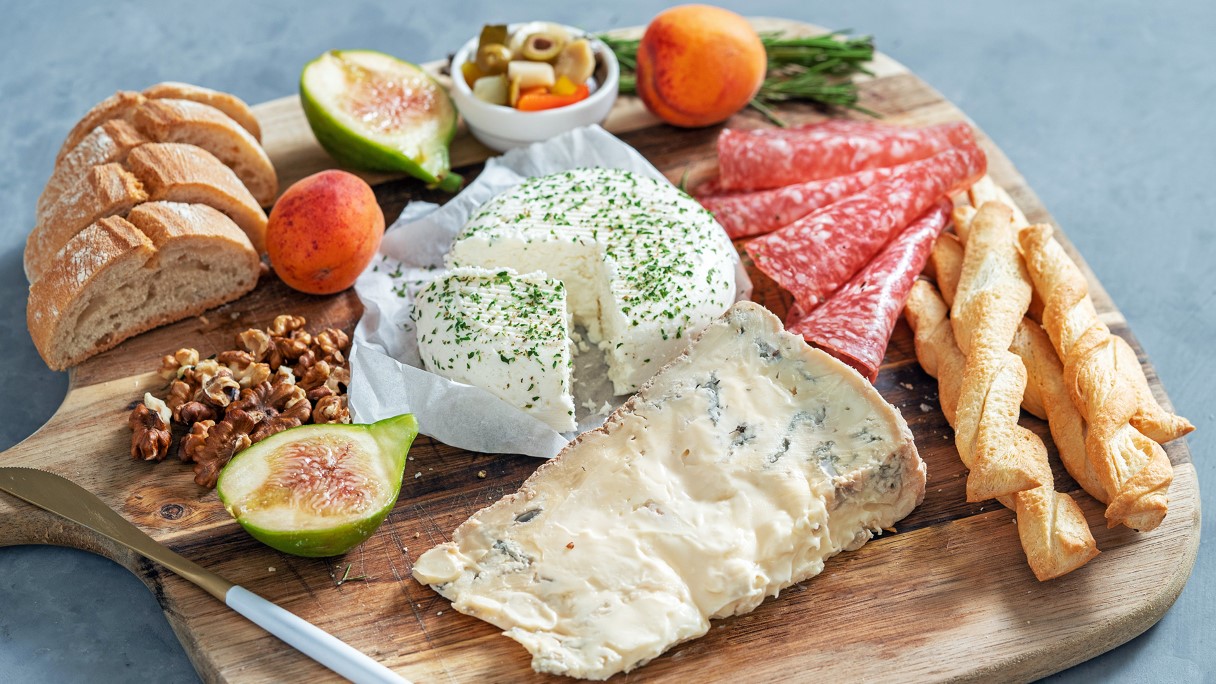 What Are the Best Gastronomy Routes in Europe?
Europe is one of the best foodie destinations since it has a diverse variety of cuisines. In addition, it's well-connected by train, and your travel visa is likely to be valid in another European country.
France is one of the go-to countries for the foodies. With regionally grown vegetables and mushrooms, a wide variety of meats, and fresh herbs garnishing every meal, you can't regret a trip to France. For those who want to experience classic French cuisine, Lyon is an all-time favourite. The city is famous for its bouchons, the little eateries that provide traditional food instead of sophisticated dishes.
However, start planning your vacation by checking Paris hotels if you want to experience fine dining, a steaming croissant in a cute café while enjoying the Eiffel Tower view.
Italy is another quintessential foodie destination. Pasta dishes made with every fresh ingredient possible, fantastic wine, outstanding coffee, and, of course, pizza are just some of the mouth-watering delights Italy offers. Just don't ask for pineapple as a topping. That would make Italians upset. You can also enjoy all those while admiring the incredible Roman architecture and lovely natural scenery. Olive oil, basil, garlic, nuts, fresh fish, different kinds of sausages, and many more are highlighted ingredients in Italian cuisine. To experience the pure Italian cuisine, Naples is a great city filled to the brim with Michelin starred restaurants with relatively affordable prices. It's also the best city for pizza-lovers.
Taking things in a sweeter direction, a chocolate aficionado's life isn't complete without visiting Belgium. The finest chocolate in Europe comes from Belgium, and Liege is riddled with exquisite chocolatiers. So go ahead and walk into any of them to grab some delicious cacao-heaven snacks. But, of course, it would be silly to visit Belgium without trying out Belgian waffles. So make sure you have these delicious and chewy waffles next to your cup of coffee.
Whether you want to taste farm-fresh food or indulge yourself in a fine dinner in a Michelin-starred restaurant, Spain has you covered. Tapas, paella, and croquettes are among Spain's most recognised gastronomic pleasures. The Basque country is truly unprecedented, with its wide range of ingredients and preparations for food. The famed San Sebastian, which has many Michelin–starred restaurants, is the main draw of the Basque country. You can also visit the overlooked coastal town of Galicia to taste incredible wine paired with the local seafood.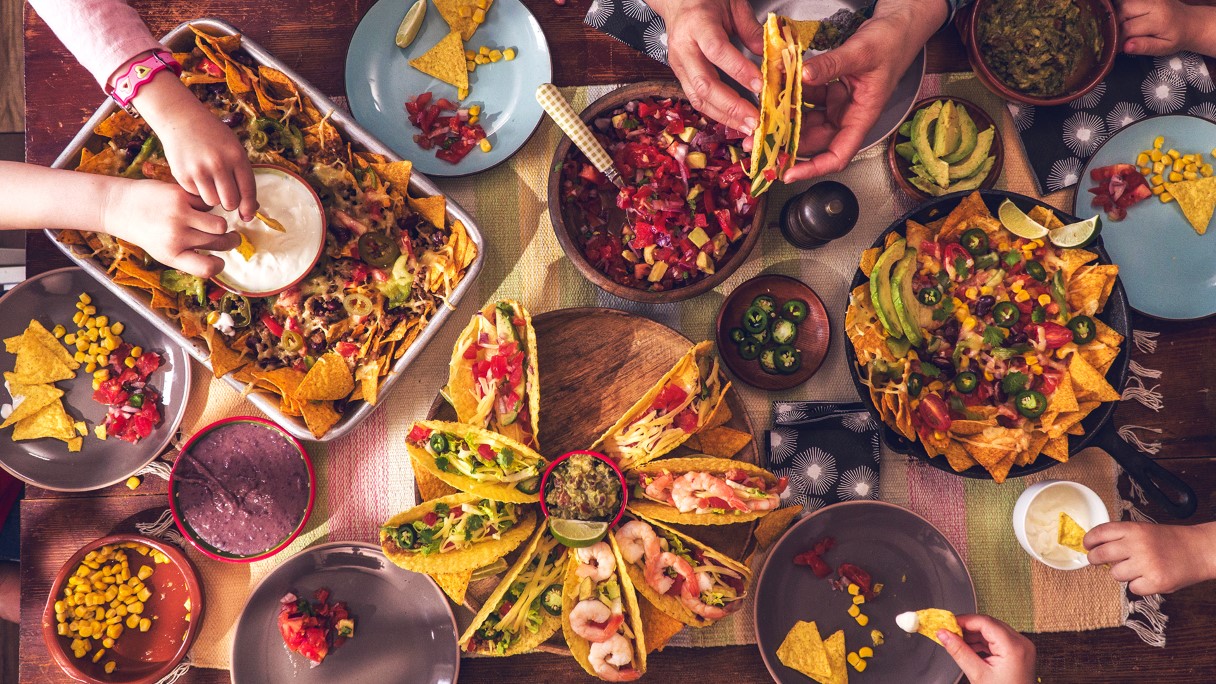 What Are the Best Gastronomy Routes in the USA?
Although it may not stand out as a gourmet destination as much as other locations such as France or Japan, the United States is a vast country with plenty of offerings to foodies.
Los Angeles, for example, is of few cities that offer both fine dining and tasty street food.

There are nearly a hundred Michelin-starred restaurants in LA, so it's unlikely that you will struggle to find one. Or, if you want to be on your feet and enjoy the city life, the amazing street food of Los Angeles will keep your belly happy.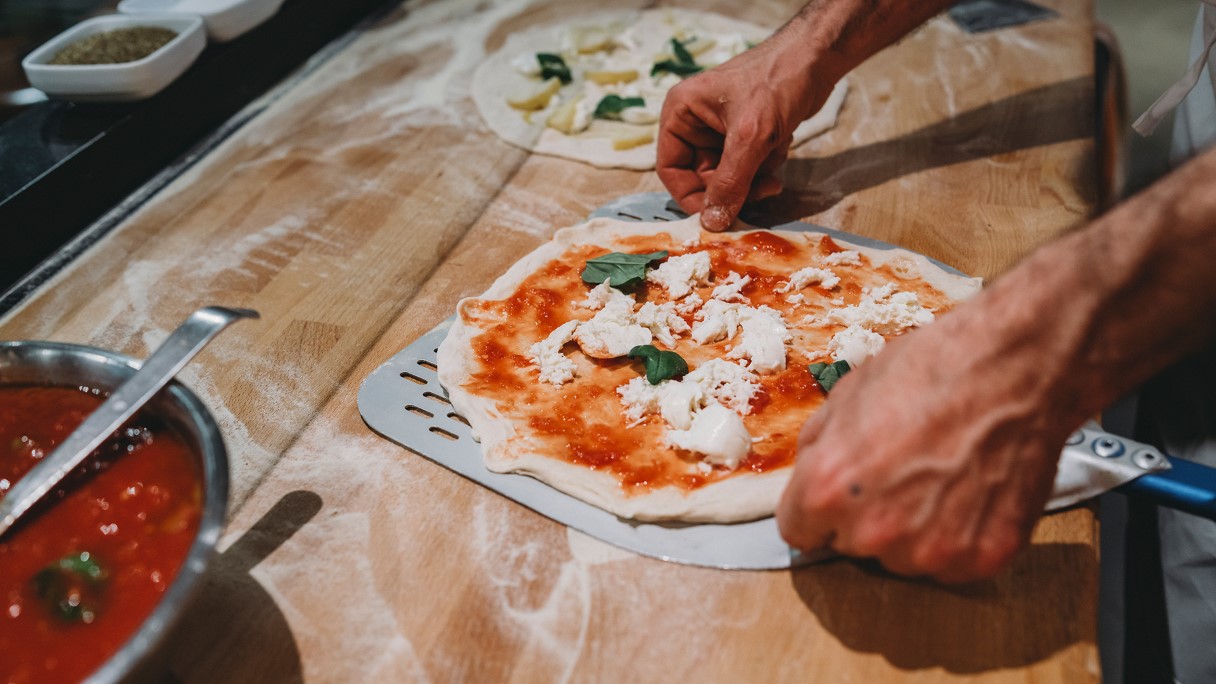 Napa Valley, California, is on the more elegant end of the spectrum. This wine country has various award-winning fine-dining establishments and luxurious hotels that keep travellers coming back for more. So if you want to cut down the costs of your trip while splurging on food, early-bird hotels might do the trick.
There is also New Orleans, an obvious choice for those looking to try Cajun and Creole cuisine. The combination of traditional and European-style cooking creates a genuinely exclusive culinary culture. Visit this Louisiana city known as "The Big Easy" for warm hearts and warm meals. Make sure you try Étouffée, which combines crawfish, butter, onions, green peppers, and celery into a thick sauce served over rice. Yum!
Last but not least, New York City. From exceptional street food to world-renowned restaurants, the Big Apple has everything a foodie could wish for with many cuisines belonging to various ethnic groups. Don't let Italians hear this, but New Yorkers think their pizza is the best in the world, so make sure you don't leave without trying. Moreover, if you want to have a New Yorker's classic Sunday morning breakfast, head to a local deli to get a bagel with a schmear—you won't be disappointed.
Feeling hungry? We know we are. When visiting these destinations, aim not only to enjoy the excellent meals but also to learn about the people and why they prepare the food they do: Inquire, connect, taste, and smile. Legend has it this makes the dish taste a thousand times better.