Where Do You Want To Go? Plan Your Trip!
Find Your Holiday
Saint Moritz Hotels Vacation Packages
-
3 Holidays
Hotel Steffani
4 Nights
+25592 Miles
From Holiday
Per Person
30.086,5 TL
Free cancelation
View Holiday
Saint Moritz Hotel Arte
4 Nights
+12848 Miles
From Holiday
Per Person
15.106,5 TL
Free cancelation
View Holiday
Hotel Laudinella
4 Nights
+13032 Miles
From Holiday
Per Person
15.321 TL
Free cancelation
View Holiday
Saint Moritz Hotels
Saint Moritz is one of the most spectacular towns to visit in Switzerland, with stunning views and amazing winter sports opportunities, it's not hard to see why this region is one of the top tourist destinations in the country! Whether you are visiting during the summer or winter months, there are many different activities and sightseeing opportunities, from the famous Segantini Museum to the beautiful Heidi Hutte and Blumenweg. Along with an array of different things to do and see, there are many amazing and unique Saint Moritz hotels for travellers to choose from when booking a holiday package to the region, from 5-star luxury to family-friendly.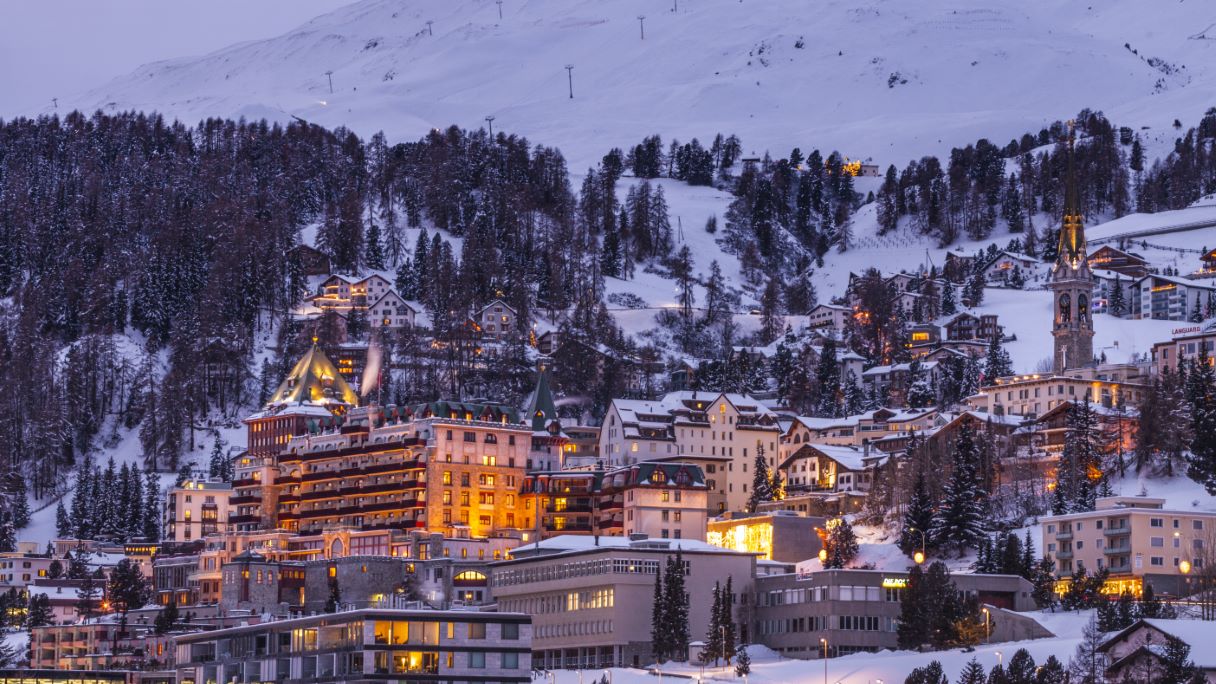 Saint Moritz hotels prices
A stay at one of the Saint Moritz, Switzerland hotels does not have to come at a hefty price. With many different types of Saint Moritz hotels to choose from that suit a number of different budgets, each traveller can be sure to find exactly what they are looking for in a price range that they are comfortable in. Along with many different types of Saint Mortiz hotels, there are also deals like the early bird and last minute specials that can be secured for an even more affordable price. If travellers are unable to find what they are looking for in the Saint Moritz area, Zermatt hotels, Kitzbühel hotels and Saalbach hotels each offer experiences that are similar to Saint Moritz but may have a few more accommodation options to consider.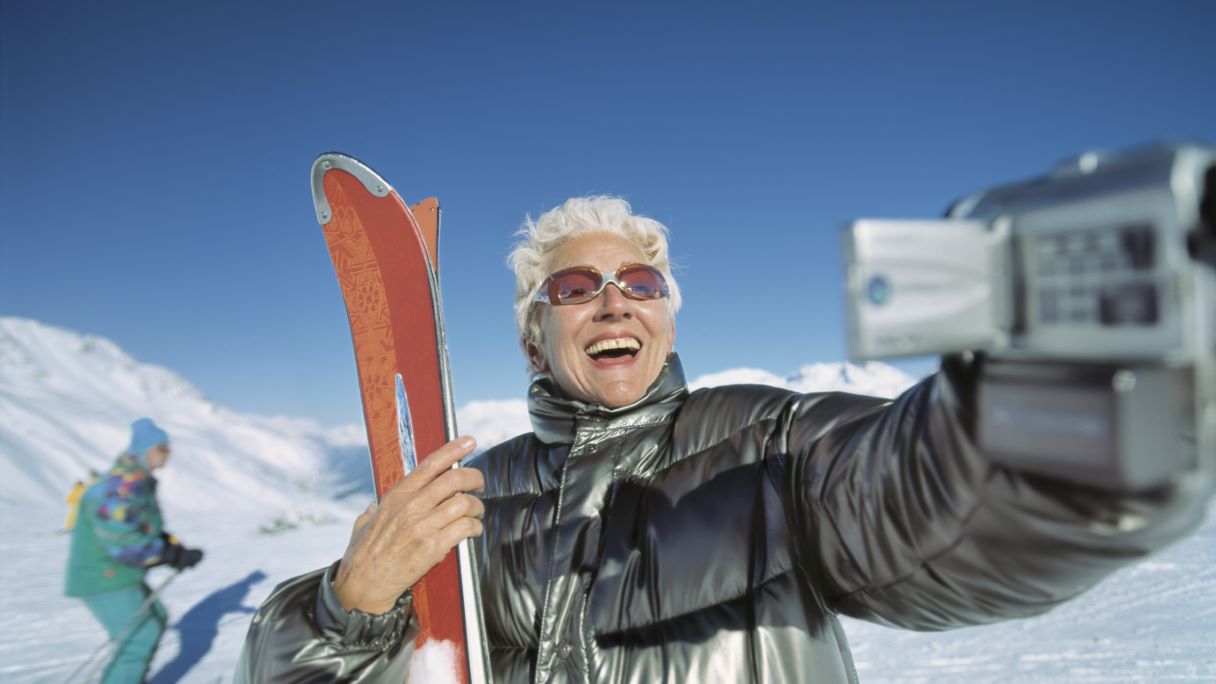 Saint Moritz vacation packages deals
For a package that includes a stay at one of the St. Moritz accommodations and flights, travellers should consider purchasing one of the vacation package deals to the region. These deals offer travellers the chance to easily secure the holiday of their dreams, minus the stress of having to plan out all the nitty-gritty details. Along with flights and a stay at one of the Saint Moritz hotels, packages can be designed to include transfer services and car rentals.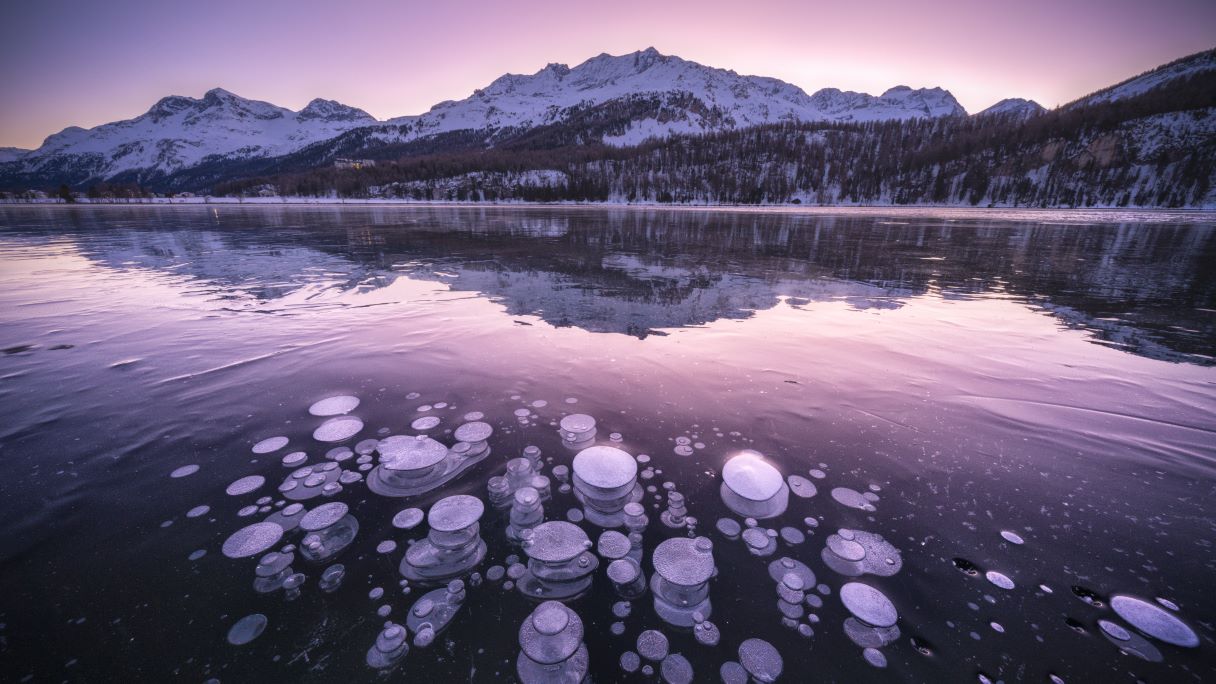 What are the accommodation options in Saint Moritz Hotels?
Boutique hotels
Many travellers come looking for a stay at one of the luxury hotels in St Moritz, and for the most spectacular stay, any of the boutique hotels would offer the perfect type of accommodation. These types of Saint Moritz hotels are unique as they provide a chance for travellers to experience true Switzerland. With features like unique architecture, traditional cuisine and historical architecture often displayed throughout the property, a stay at one of these 5-star St. Moritz hotels could offer the perfect accommodation type for your holiday.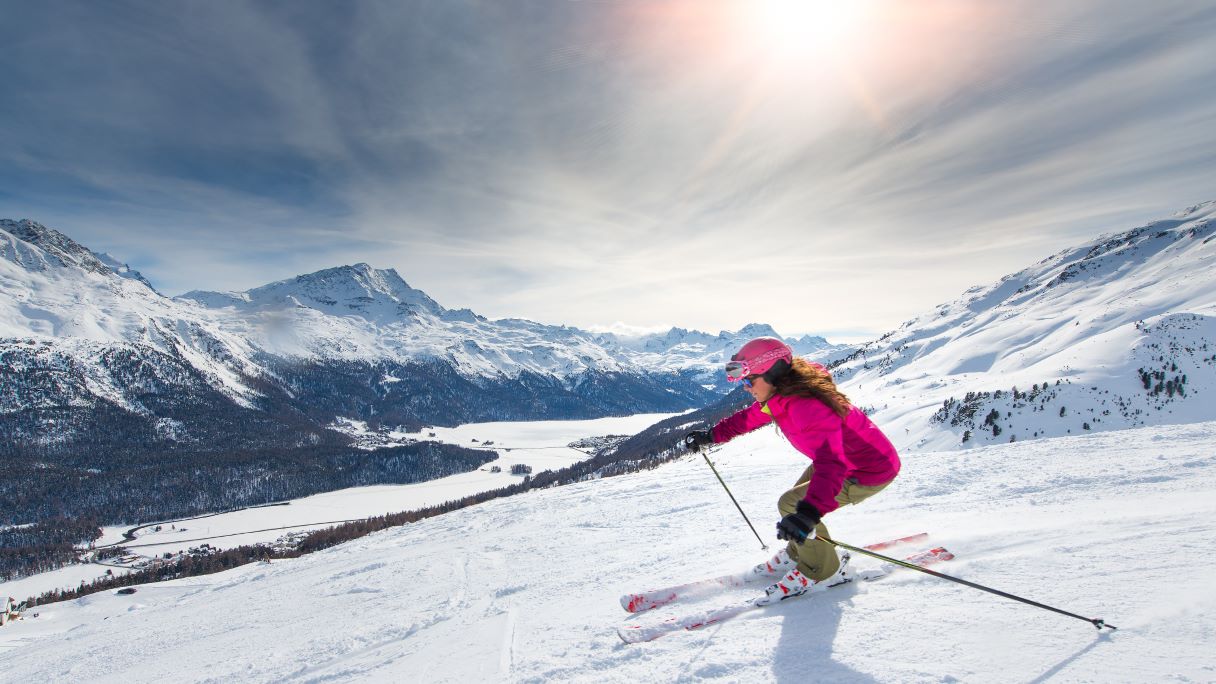 Spa Hotels
Travellers who are looking to enjoy a relaxing vacation should consider staying at one of the St. Moritz spa hotels. These types of Saint Moritz hotels offer spa treatments and different unique facilities that are all designed to ensure you have the most relaxing stay. Whether you are hitting the slopes and are looking for a massage after a long day or are hoping to spend an entire day getting primped and pampered, these types of Saint Moritz hotels offer a sublime experience.
What are the must-see places in Saint Moritz?
St. Moritz Lake
While the epic slopes and winter sports draw many people to the region during the winter months, the Saint Moritz Lake is what draws visitors to the area during the summer months. The pristine and beautiful body of water sits directly below the stunning mountain ranges, offering spectacular views. Along with a host of different Saint Moritz hotels, restaurants, cafes and shops that can be found along the beautiful lake, there are many hiking trails and different kinds of activities for travellers to enjoy.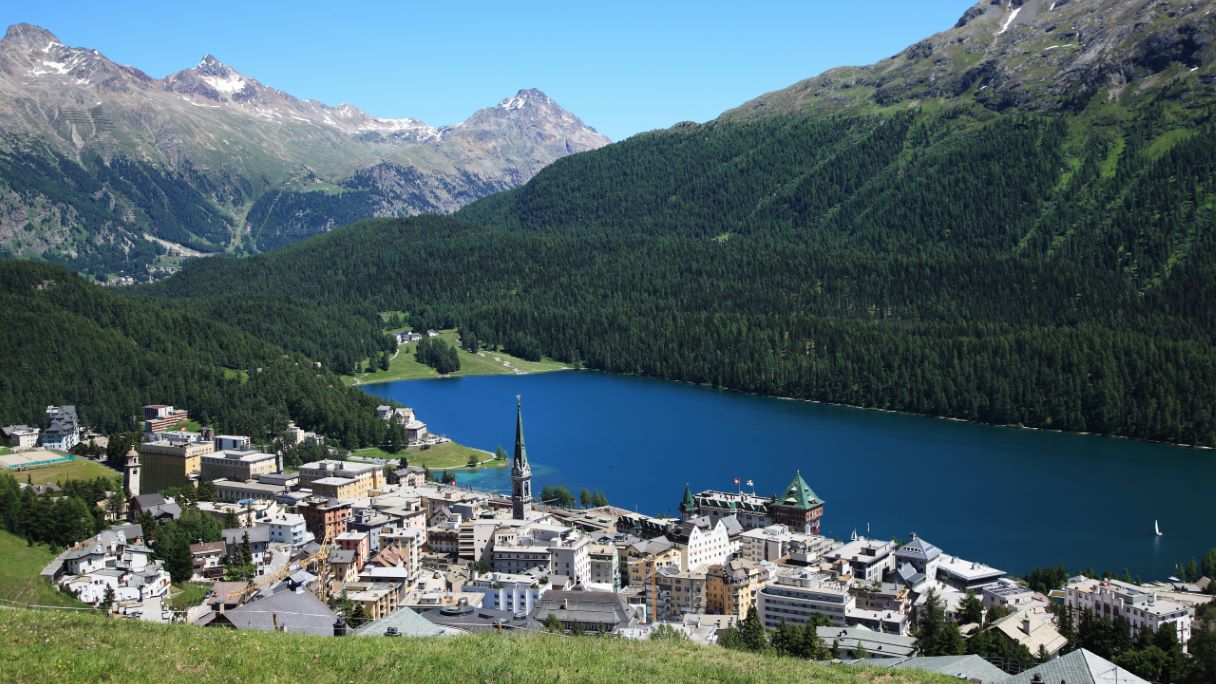 Engadine Museum
For those travellers who are interested in learning about the cultural and historical sights of the region, a visit to the Engadine Museum would offer the perfect sightseeing activity for you to enjoy. Set up in a replica of an Engadine house during the 1700s, this stunning museum houses ancient artefacts that are known to date back as far as the 13th century. To take a trip back through the years and see how those who once farmed the lands used to live, a visit to this extraordinary museum would be the perfect activity for those who are interested in learning about the history of the area.
Segantini Museum
For those travellers who are art history buffs, a visit to the Segantini Museum should definitely be added to your must-see places in the area. Named after the artist whose art adorns the walls of this magnificent museum, the Giovanni Segantini (1858-1899) paintings are truly spectacular to see and bring a new appreciation to the beauty of the area, which is what much of his work was based on.
Who do Saint Moritz Hotels appeal to?
With a wide variety of different Saint Moritz hotels to choose from, there are many different types of travellers who would be perfectly suited to book a holiday in the area. Whether you are a couple looking for privacy or are an intrepid explorer looking to stay in a unique kind of accommodation, Saint Moritz has many different types of hotels to choose from. The following are just a few types of tourists and the Saint Moritz hotels that would appeal to them.
Families with children
Some of the best St. Moritz hotels are known for being best suited for families with children. These hotels often offer unique features such as kids centres, playgrounds and may even provide activities for the children to partake in. These types of Saint Moritz hotels could be all-inclusive hotels, which are extremely popular with families.
Honeymooners
A romantic stay at one of the best hotels in St. Moritz would have to include booking accommodation at one of the famous honeymoon hotels. With unique features that are designed to ensure a romantic experience like nothing else on earth, a stay at one of these 5-star hotels in Saint Moritz, Switzerland would be the perfect way to start a life with your new husband or wife.
What are the top things to do in Saint Moritz?
Skiing and Winter Sports
For travellers who are hoping to improve on their skiing and snowboarding skills or those who are perhaps keen on learning, St. Moritz offers exceptional conditions for these sports. With one of the highest resorts in all of Switzerland and exceptional terrain for many different levels of skiers, from beginners to experts, it's not hard to see why thousands flock to the area every winter. For those who are not sure about participating in skiing or snowboarding, there are many other winter sports and facilities to enjoy, a few including ice skating, tobogganing and even bobsledding. Many of the best Saint Moritz hotels and resorts are located along the base of the mountain for all-day access to the slopes.
Walk along the Heidi Hutte and Blumenweg (Wildflower Trail)
The amazing wildflowers in the region are one of the top sights to see when visiting St. Moritz and it has been known to be one of the wonders of nature in the area. This easy walk is absolutely stunning and the 200 different species of wildflowers blooming along the trail offer a spectacular sightseeing opportunity. For the best chance to see the flowers in bloom, visit the region in June.
What are the transportation options to Saint Moritz?
The nearest airport to Saint Moritz is the Milan Bergamo Airport, which is only 155 kilometres away from the town centre. This trip will take around 2 and half hours to complete when travelling by car. The best way to ensure a quick and easy trip from the airport to whichever of the Saint Moritz hotels you are staying at is to book either a car hire or transfer service through your vacation package. Public transportation in the area may take much longer as there are few services between the town and the surrounding airports.
What do you need to know about Saint Moritz before you go?
Many travellers visit the town of Saint Moritz each and every year and it is becoming an increasingly popular destination for travellers in both summer and winter. When considering a trip to Saint Moritz, it is important to consider exactly what type of holiday you are hoping to have and when in the year you are hoping to visit. Those who are hoping to do some hiking and spend time outdoors should consider the extremely cold temperatures that are common during the wintertime, and the snow may make it hard to do all the sightseeing and outdoor activities. While winter may not be the perfect time to do sightseeing and hiking, travellers who are hoping to hit the slopes and partake in one of the many different winter sports offered should definitely visit during the winter period, as the town offers spectacular weather conditions and many skiing and snowboarding opportunities for you to enjoy.
What is the climate and weather of Saint Moritz?
Due to the fact that Saint Moritz is located in a highly elevated region, the climate is a subarctic climate. This climate ensures that the summers are cool while the winters are extremely cold. The warmest month to visit the region would be in July, when temperatures average around 14 degrees celsius while the coldest month to visit is January where the temperatures average at about -2 degrees celsius.