Where Are the Best Holiday Destinations in Türkiye?
Filled with natural charm and stunning cities that have been the main stage for significant events throughout history, Türkiye can be one of the preferable destinations for vacationers. Surrounded by three seas while connecting Europe and Asia, Türkiye provides an unmatched experience for its guests. However, planning a trip to Türkiye can be quite complicated considering various equally attractive alternatives to visitors. Here's a selection of the best holiday destinations in Türkiye, which you can explore on a package vacation. Before you continue reading, we would like to remind you not to forget to get vaccinated and get your vaccination passport before you go on holiday.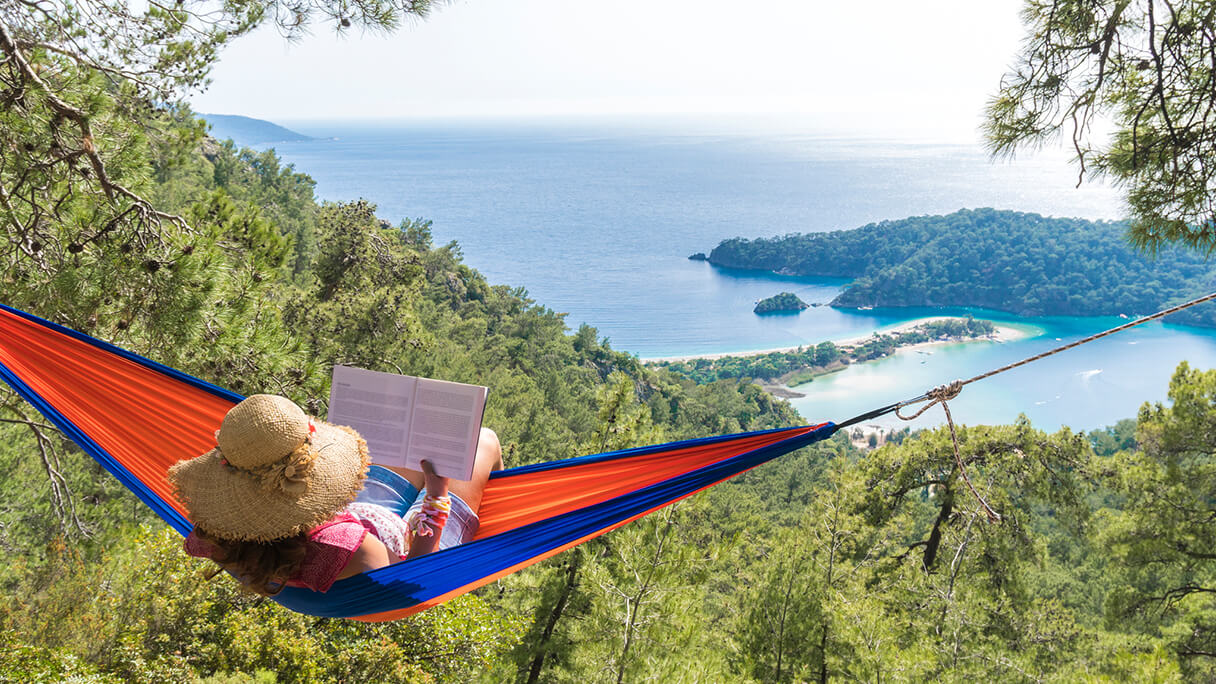 Antalya
Accompanied by welcoming sun and good weather, Antalya offers the perfect mix of history and nature. One can wander around Kaleiçi while absorbing the nostalgic atmosphere radiated by the Roman-Ottoman era's historic houses. Even the modern buildings have the historic touch since their residents are still intact with their roots.
Another historical checkpoint of Antalya is Yanartaş (Burning Stone). There, you can observe the ever-lighting fire. Antalya has many ancient sites like Olympos, Side, Patara, Xanthos, Termessos, Aspendos, Perge, Sillyon, and Myra. You can relieve the burden of contemporary life on these sites, travel back in time to early ages. The diversity of the city's culture presents itself with the mosques —such as The Alaaddin Mosque or Yivli Minare Mosque— and the churches —like St. Nicholas— coexisting for years. Likya road is a breath-taking trekking route with many natural wonders if you're looking for a more adventurous journey.
The city is famous for its historical texture and offers exceptional sea tourism with its countless beaches. Some of the major beaches are Konyaaltı, Lara Karpuzkaldıran, Kemer, and İncekum. Some Antalya hotels provide the most spectacular services to their guests, increasing the joy of their holiday experience. In these hotels, the city's unique nightlife awaits visitors.
Whatever your expectations are, Antalya has something to offer to meet those: Perfect beaches, rich culture, exciting nature, and nightlife in one city.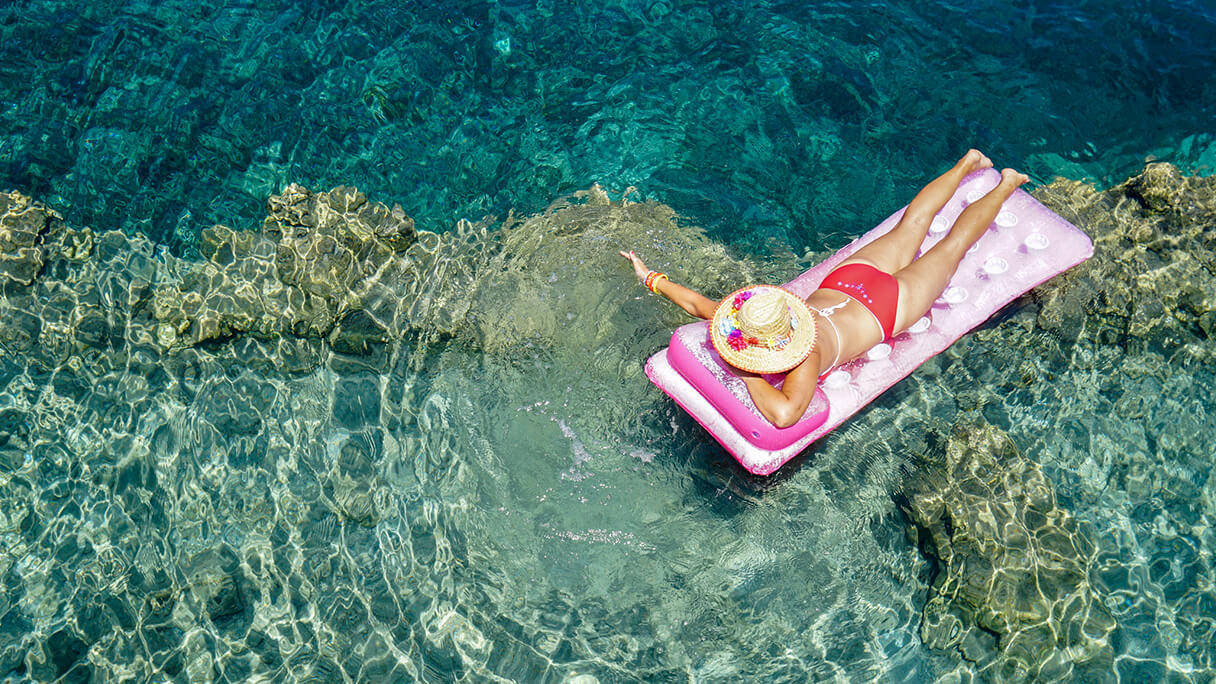 Bodrum
Bodrum (a.k.a. Halicarnassus), once home to one of the Seven Wonders of the World, the tomb of Mausolus (a.k.a. Mausoleum at Halicarnassus), ruler of Caria, is a district in Muğla.
It is safe to say that Bodrum is the most famous district in Türkiye even though it's a small settlement. With its natural appeal, the characteristic architecture of the Aegea, and distinct nightlife, Bodrum is a unique combination of a modern city and a modest fishing village. These features make Bodrum one of a kind not only in Türkiye but likely in the world.
The most famous landmark of Bodrum is its castle. Built in 1402, Bodrum Castle is one of the rarest pieces of history due to its intact structure. Surrounded by the clear waters of The Aegean Sea, Bodrum Castle offers to touch the historic feel of the Middle Ages while the clean and fresh air of the sea fills your lungs. You can explore the cultural heritage more by visiting Bodrum Museum Of Underwater Archaeology, Bodrum Maritime Museum, and Karia Princess Museum.
You may also want to experience the beach culture in nearby districts if you opt-out of Bodrum Beach itself. For example, Gümbet Beach welcomes water sports enthusiasts, and Aquarium Bay in Bitez is excellent if you're looking to get away from the crowds. Some of the other beaches you can enjoy are Karaincir, Türkbükü, Camel, Mazı, Halikarnas, all of them also host classy Bodrum hotels.
Experiencing nightlife is a must —even if you feel too old for that stuff. You don't have to visit clubs or bars, but you may want to try wandering around the lively streets of Bodrum and sit down calmly in a patisserie to drink a cup of tea accompanied by a piece of dessert. Almost every place is open until late at night in Bodrum.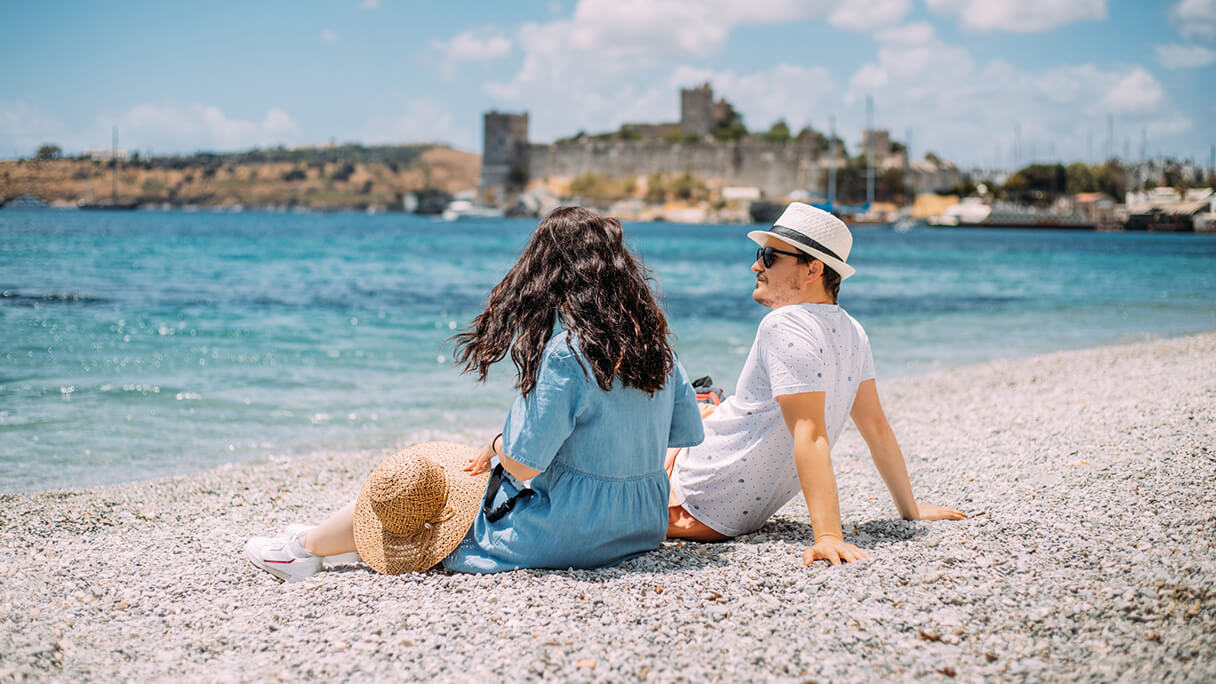 Marmaris
Marmaris, our second stop in Muğla, also revolves around history while offering unrivalled natural landscapes. The ancient city of Amos can be a trip to the heart of the old ages. Bays like Bördübet and Çiftlik offers beautiful water, and Marmaris hotels can provide the best selection of Turkish cuisine.
You can maximise the experience of a simple seaside holiday with beaches on Cleopatra Island. In addition, we strongly recommend taking a boat tour around Marmaris regarding its natural charm.
Shopping is positively more unconventional than modern days if you visit Old Bazaar.
The most famous region of Marmaris is Bozburun which has a beautiful trekking route, Caria road. This place is perfect for both campers and trekkers. The waterfall of Turgutköy grants a magnificent view. Ölüdeniz Beach of Bozburun is the superstar of the area since it was crowned as the most beautiful beach in 2006. Hence, you can have the perfect combination of good food, excellent views, and clean air if you decide to stay in Bozburun hotels. As popular as Bodrum, Marmaris provides a sight to see from all possible aspects.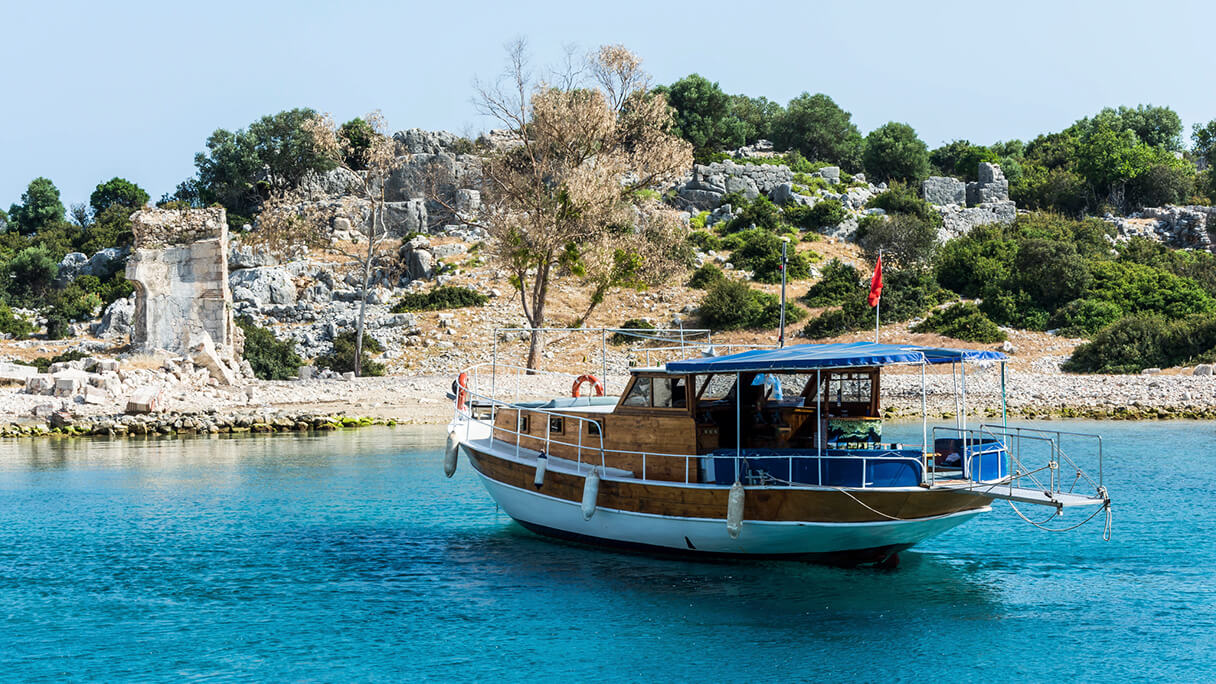 Datça
Datça, one of the almost infinite offerings of Muğla, brings ecstasy to your spirit with its enchanting nature and dazzling sea. Nature is under the government's protection since they labelled it as a particular environmental protection area.
Three hundred sunny days yearly on average, Datça has a lot of sea-related options. Beaches like Aktur, Karaincir, and Hastanealtı offer an immaculate landscape. Boat tours and water sports are common here; it is a loss if you don't experience any. Datça hotels are in service of visitors for both summer and winter.
You can witness the historical texture of Datça just by walking through the dust of the ancient city of Knidos. All in all, you can find many wonders of Datça at any time of the year, which could only scratch the surface.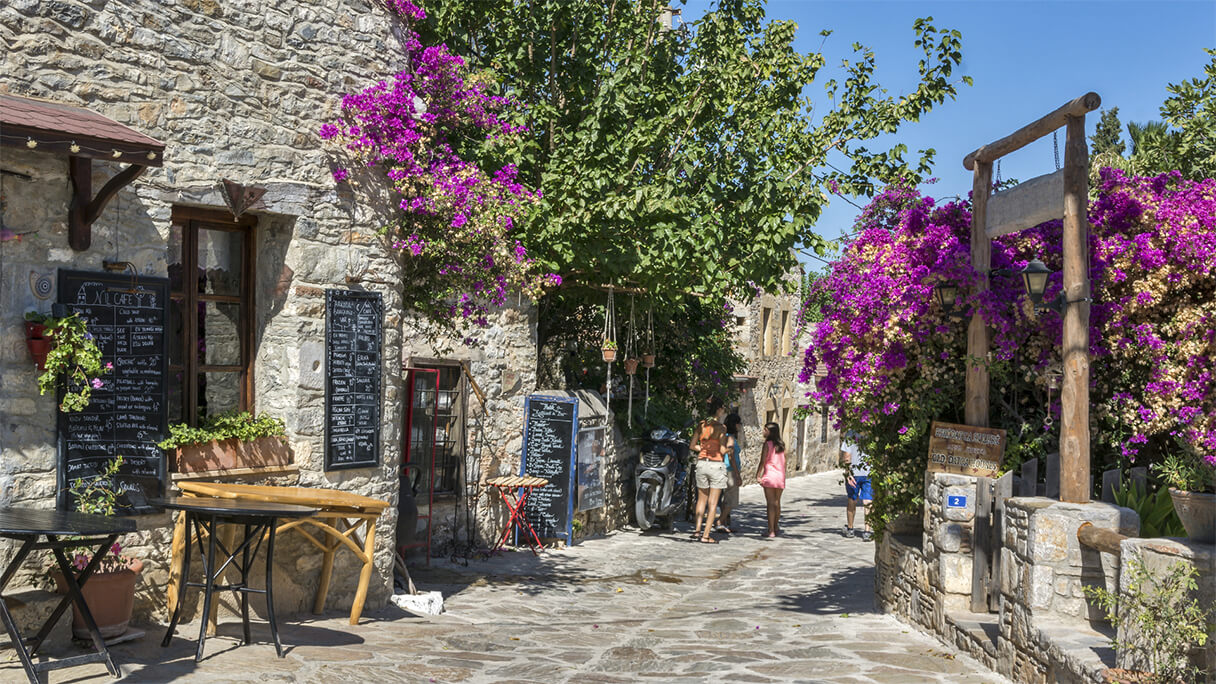 Bozcaada
Bozcaada (a.k.a. Tenedos) is the third biggest island of Türkiye. Home to many cultures throughout history, the streets are full of ancient remains. Wandering around the streets offers incredible sights of historic churches, mosques, and civil buildings. The city is famous for its wines and jams you can find almost everywhere on the island, including each Bozcaada hotel.
Each stop here is gastronomically delicious, historically fascinating, and naturally captivating. To find the unexpected at every moment of your holiday, Bozcaada is a place to see.
İzmir
One of the largest cities of Türkiye, İzmir is a welcoming place with its polite residents and attractive atmosphere. If you have one day to spend in the city centre, visit Smyrna Ancient City to get a taste of early history. Then walk through Kordon to enjoy the modern lifestyle of the city. Finally, you can finish your day by having dinner by the sea while enjoying the sunset.
The Ancient city of Ephesus (Efes), which is about a one-hour drive away, can take you on a journey throughout the Roman and Ottoman era.
Best hotel options in İzmir are in Alaçatı, Çeşme, Seferihisar or Urla. All these places are between one to two-hour drive away from the city centre. However, Çeşme is the most popular among these. It is because Çeşme allows a diversity of options whether you prefer more cultural activities or entertainment. Ancient cities like Erythrai and other historical sites satisfy the former, and beautiful bays like Aya Yorgi and beach clubs are for the latter.
Çeşme hotels are among the best accommodation choices in İzmir. You can even stay in historical Cervansarais that were ancient accommodations, especially for traders, during the Ottoman Era.