As You Wish
Northern Lights
Don't Miss This Visual Feast
There are a few experiences on Earth of which you can describe as otherworldly. Seeing northern lights is definitely one of them. Ancient people thought they were caused by ethereal beings, such as gods or spirits. Even though we know how to explain this incredible natural phenomenon scientifically, it doesn't take away anything from its magical and transcended essence of this natural wonder. You can observe northern lights in limited places on earth where people can easily reach, and that makes the experience even more unique. Another aspect that makes observing northern lights special is the atmosphere you watch these beautiful light show in the sky. You can stay in one-of-a-kind hotels in the wilderness in countries like Finland, Norway, Sweden, or Iceland. So start planning your trip to temporarily leave this world and travel among the stars.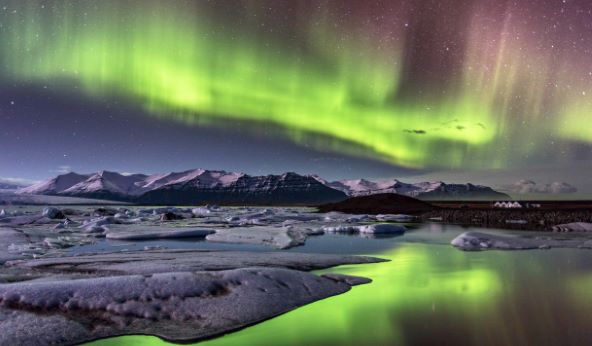 Journey to the Northern Lights
Where and How to Have the Best Northern Lights Spotting Vacations
Have you ever wished to know what it's like to be on another planet? Watching the dazzling colours of the northern lights flashing over the night sky may make you feel as if you've stepped into an icy world far away. The northern lights, also known as aurora borealis, have long been hailed as one of nature's most beautiful and ethereal displays, and for a good reason: Few things can compare to seeing this celestial ballet of light unfold across the darkness of space. They have captivated the hearts and brains of our ancestors who stood beneath a dancing sky ablaze with light, staring both in fear and wonder. That's why exploring the aurora borealis can teach you just as much about the people and cultures of land as it does about the lights themselves.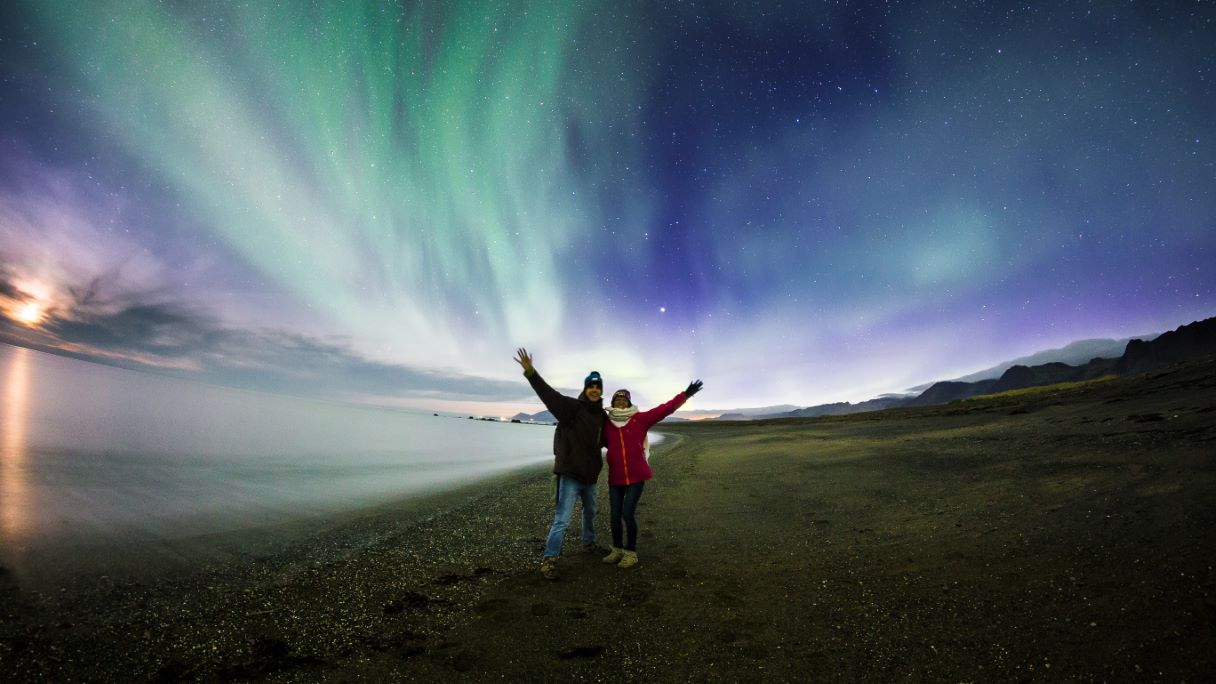 Explaining Northern Lights Scientifically
Today we know the science behind this phenomenon, but there was a time in space when stories depicted them as anything from portals to the afterlife to bad omens. In fact, they were described as the dancing and waving souls of old maidens in Viking legends, while North American tribes associate them with the spirit world. But what are they, exactly? This brilliant display of lights is caused by collisions between particles from solar winds that penetrate the Earth's atmosphere. When charged particles from the Sun collide with atoms in the Earth's atmosphere, the atoms' electrons migrate to a higher-energy state. Once the electrons return to their lower energy state, they emit a photon (light), and this process produces the dazzling light show, which can last minutes, hours, or even days in some cases. The type of gas particles that are colliding cause variations in colour, which is why they can appear in various hues, although pale yellowish-green and pink are the most common. Shades of red, blue, and violet have been observed by a lucky few and are highly sought after. Contrary to popular belief, you can also spot the southern lights in the southern hemisphere, which present themselves in more vibrant colours with shades ranging from oranges and pinks to purples and gold due to the asymmetry between the North and South Poles. They are, however, less well-known due to their incredibly isolated position, which makes them considerably more difficult to reach for travellers who basically have to embark on a pilgrimage to witness this fascinating occurrence in person.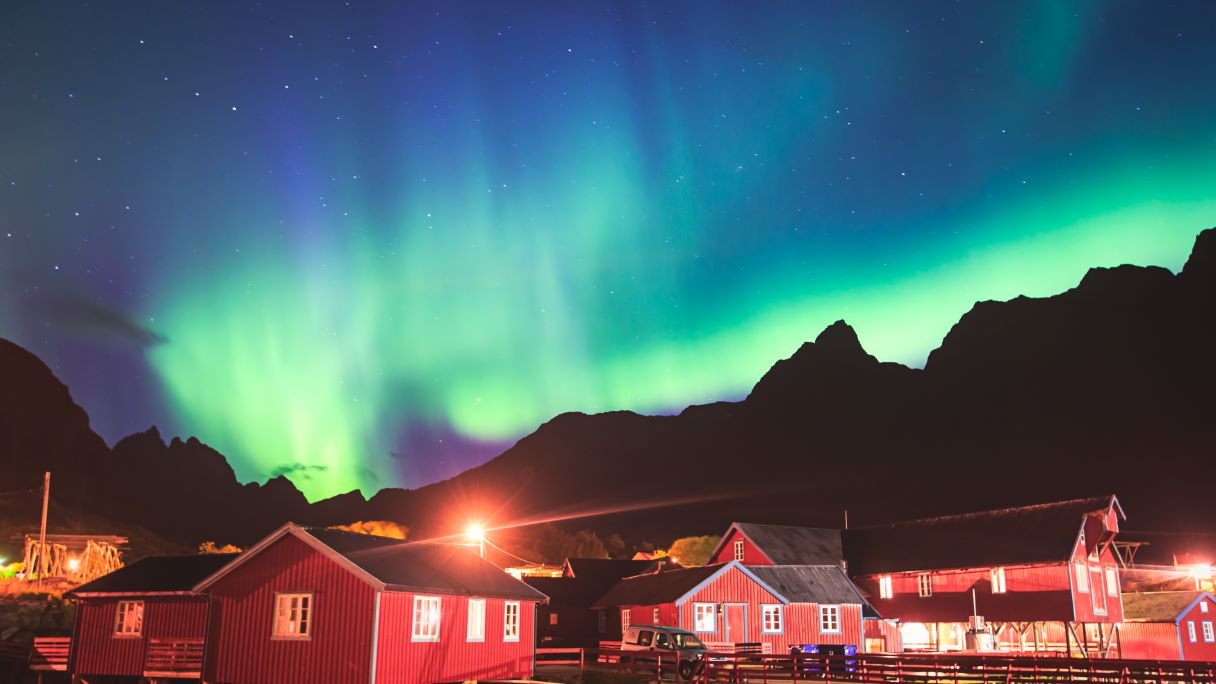 Where Are the Best Places to See the Northern Lights?
The northern lights are the way to go for travellers hoping to cross the aurora borealis off their bucket list with relatively minimal effort. They can be found in the aurora zone in the Northern Hemisphere, which encompasses latitudes between 60 and 75 degrees and is an area of high solar activity and extreme winter darkness, taking in Iceland, northern parts of Sweden, Finland, Norway, Russia, Canada, and Alaska as well as southern Greenland. The closer you are to this area, the more likely you are to see the lights. "Likely" is the keyword here: Because you're chasing a natural occurrence, the correct timing, location, and meteorological conditions, as well as a healthy dose of patience and luck, are all essential. It's critical to pick the right month for the region you've chosen, and you can plan your journey around a new moon to improve your chances. You'll also want to avoid the glare of city lights for a more vivid spectacle. Your northern lights vacation package should ideally include a stay in the countryside or a guided tour into the wilderness. Keep this in mind, though: You're going to be up late! Since the northern lights can appear and vanish in an instant, it's important to stay vigilant throughout the night. Most tours focus between 10 pm and 3 am, but some hotels may provide an "aurora alarm" to let you know when or if the lights come out. Some tours may also involve festive activities, such as trekking with huskies in the wilderness or warm refreshments to keep you occupied. While you'll probably do some waiting in between, there's nothing quite like watching the northern lights and their reflection dance across the snow, ice, and the infinite sky. So let's get our snow boots wet and dive right into the best places to view northern lights and shed some light on which times of year to travel as well as what to expect.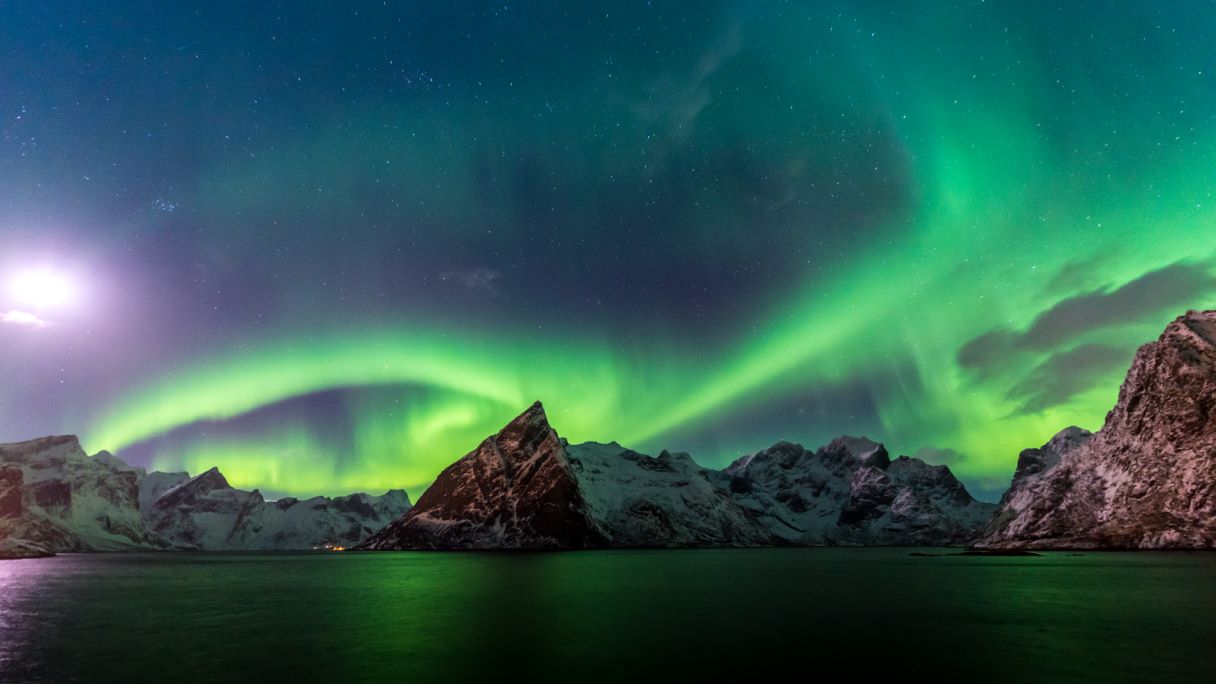 1. Finland
Finland is a safe bet for aurora chasers since it's right in the middle of the aurora zone: The lights appear on more than 200 nights a year between September and March in the Finnish Lapland, the northernmost part of the country. If you want to get the most of your holiday, you can book a plane ticket to Helsinki, arrange your overnight accommodation and transfer to Lapland. Furthermore, vacation packages allows you to do all of it with just a few clicks. Finnish people call the northern lights revontulet, which means "firefox" or "fox fires," since they believed Arctic foxes created them as they run through the sky with their tails brushing against the mountains. They would move so fast that this would create sparks that lit up the whole sky! This union of animals and sky can easily tell you that your vacation will be decked with wildlife: About 200,000 reindeer live in the nation, which you can get up close and personal with if you stay at a reindeer farm. The light pollution in this region is virtually minimal, which creates the perfect aurora hunting conditions against a stunning backdrop of icy lakes and woodlands. Furthermore, because Finland is located inland and has fewer coastline locations in its northern region, coastal fog and clouds are less likely to obscure your view of the lights.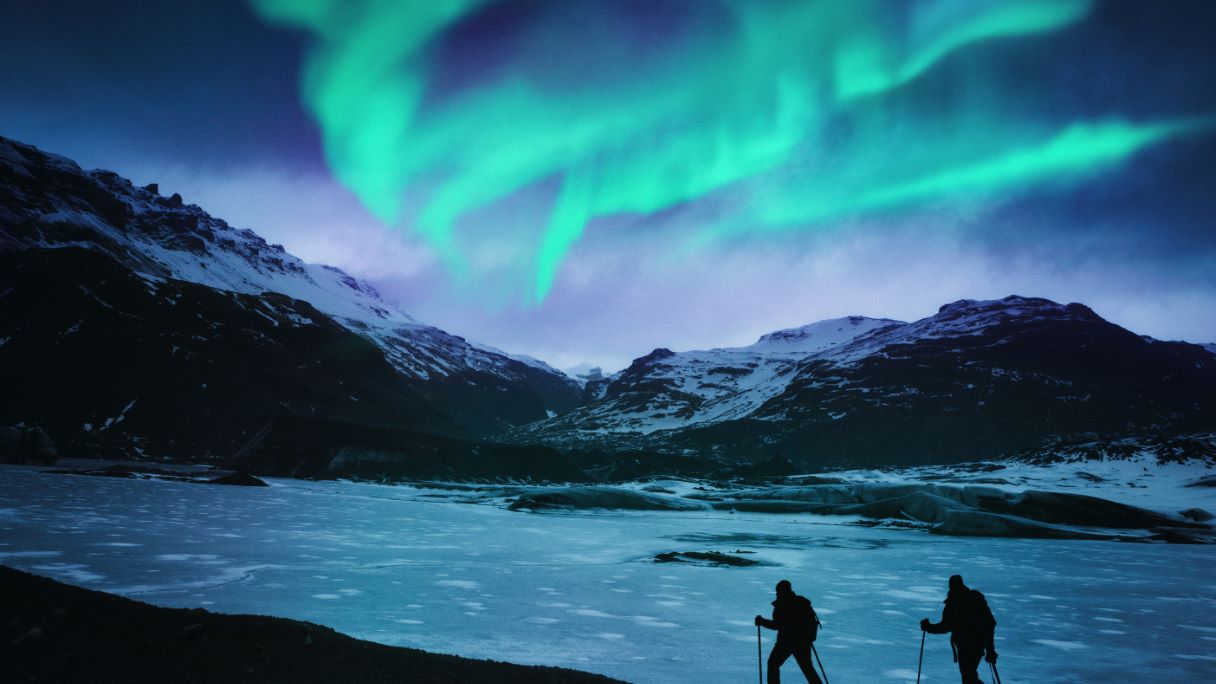 2. Norway
Thanks to its unique aurora spotting options, expansive nature, and vibrant fishing villages, Norway is a fabulous destination for the picture-perfect winter getaway. Aurora borealis activity peaks between September and March, when the country's northern region is dark from early afternoon till late morning. So if you have your eyes set on Norway, you'll want to visit Tromsø, which is one of the best spots to view the northern lights. You can choose to pursue the lights on your own or opt for a guided Nordic adventure since tours ranging from reindeer sledging to whale watching are abundant here. Even better, you could take a ship down Norway's fjord-lined coast and get alarms to go out on the deck when the lights show themselves. Are you worried about getting restless while waiting for the lights to appear? No problem. Suppose you prefer to have your feet on soil. In that case, Tromsø is home to the world's most northerly university, brewery, and planetarium, which you can explore in between while staying at one of the best northern light hotels, so there's no such thing as boredom in this city.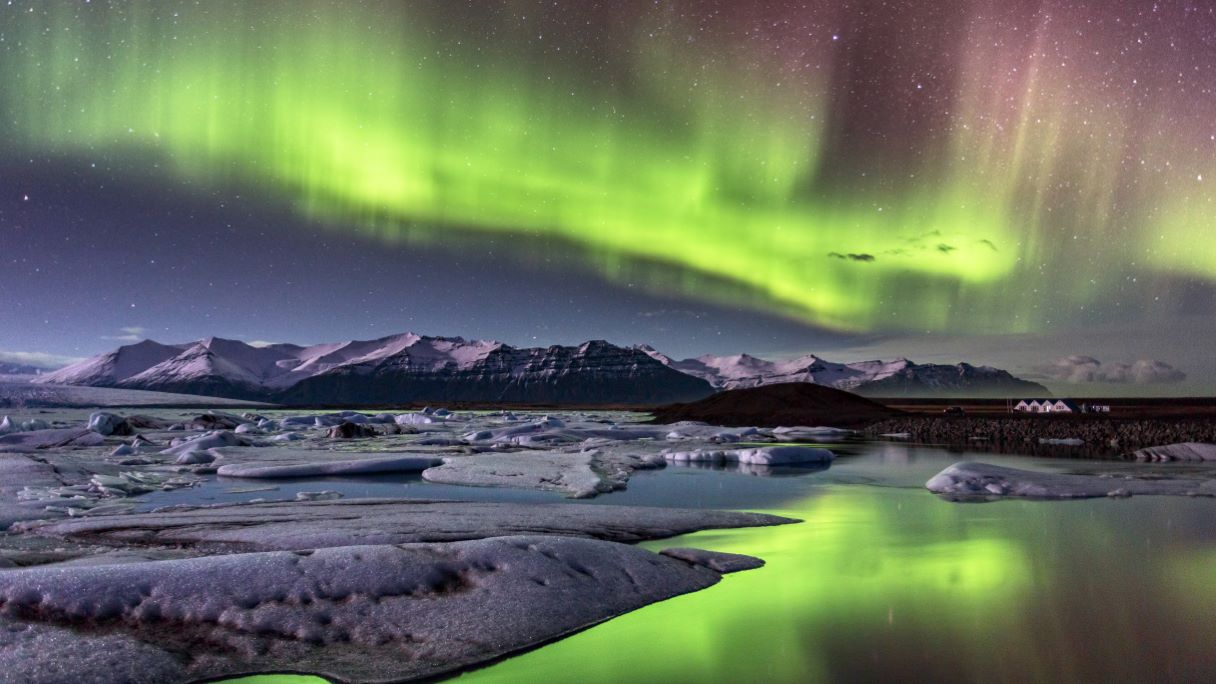 3. Sweden
You want to chase the aurora but are afraid of freezing your socks off in the tundra? Then, Sweden could be the ideal destination for you. The temperatures here are milder than other aurora hotspots like Canada. Sweden's perfect position makes it an excellent addition to any European journey as part of your northern lights vacation package. Seen as a portent of good news in ancient times by the Swedes, the northern lights can be pretty easy to spot here. Not to be confused with the region in Finland, Swedish Lapland provides numerous aurora viewing opportunities against pristine, snow-covered scenery that you can enjoy between October and March. A small village named Abisko here is one of the best places on Earth for consistent sightings of the northern lights, thanks to its location that provides a unique microclimate. It apparently gives the area more clear skies than any other location in the aurora zone. You can include a car rental in your package and drive to Abisko for an unforgettable road trip after landing in Stockholm, where you can stay a couple of days in a cosy hotel. If you want to make your trip as Instagram-worthy as possible, check out the Icehotel, which is a one-of-a-kind accommodation option made of ice and snow that melts and is rebuilt by artists every year. You can even sleep in a bed made of ice if you're unafraid of the chill.
4. Iceland
You can see aurora borealis practically anywhere in Iceland if you're outside of the capital, Reykjavik, unlike other countries where you may need to travel to catch a glimpse. You may even see the show multiple nights in succession between September and April if you get lucky. However, the aurora is only a sliver of Iceland's glitz and glamour: The country is also home to volcanic landscapes, geothermal hot springs, and jaw-dropping waterfall views. Depending on your northern lights vacation package, you can spot the lights from the comfort of thermal hot springs or go on trips that combine northern lights hunting with activities ranging from whale watching and dog sledging to an ice cave and glacier exploration. If you want to stick to what most tourists do, you can opt for taking a guided bus excursion in search of the northern lights, where an expert can teach you where to find and photograph this spectacular phenomenon.
5. Canada
Oh, Canada! The remote, stunning, and vast and wild country offers a diverse range of opportunities to see the northern lights as early as the end of August until the first days of March. The aurora can be seen in various places of Northern Canada regularly, providing you with many northern light hotels. You should stick to Canada for front-row seats to the most breathtaking aurora displays. Also known as the aurora capital of North America, Yellowknife is a must-see thanks to its awe-inspiring light shows that last from January through March. Since the area is mostly flat, it offers unobstructed views. Moreover, if you're a fan of winter sports such as snowboarding, skiing, and ice fishing, you'll find plenty of options to immerse yourself in almost everywhere in Canada. While many Inuit tribes believed the aurora were spirits playing a cosmic ball game with the skull of a walrus, your sports endeavours will hopefully never include one!
6. Greenland
Running away from tourists and hotspots teeming with people rushing to snap a picture before the show is over? Greenland, the quiet island country with a great slice within the aurora zone, calls for adventurous travellers who dare to take the road less travelled. In fact, you won't find any roads in Greenland, which is why planes and boats are the primary modes of transportation. However, the hardship of getting there aside, you'll have the aurora all to yourself if you visit Southern Greenland from September to late April. If you are short on time, you can travel to Kangerlussuaq, where you'll be almost guaranteed a show, thanks to its 300 days a year of clear skies. Moreover, if you take the plane to Greenland, this is where you'll first land. You might also consider staying in Nuuk, the capital, which also offers unique aurora tours. Even if you're in Nuuk's downtown area, you can catch faint glimpses of the lights as soon as you arrive. You'll, of course, have a better view if you venture a little further out of town, but it won't take much time to find a dark spot from which you can enjoy the show. In between aurora sightings, keep in mind that you can always go for dog sledging, snowshoeing, skiing, or snowmobiling to keep your trip fun and varied.
7. Alaska
With its cold weather, clear skies, dark nights, and abundance of wildlife, Alaska is one of the best destinations for aurora hunters. From mountains, skies, and forests filled with grizzly bears, moose, and eagles to aurora-gazing options in steaming hot springs for those put off by chilly nights, you won't ever regret a trip to the northernmost state of the United States. Nearly the entire state of Alaska is excellent for aurora viewing between September and mid-April. Still, Fairbanks, which is directly situated in the aurora zone and serves as a suitable base for touring, is a sweet spot that you can opt for. You can easily fly into Fairbanks and be at northern light hotels in under an hour. Then, when you move away from the city lights of Fairbank and get to the wilderness of Denali and the Yukon, you'll be confronted with the most beautiful sightings of one of the grandest spectacles in nature. This is an experience you won't soon forget.